(hit "refresh" to get the most recent version of this page; click on photos for larger images)
former Skillet Restaurant
Parkville, MO
Mr. Pancake Restaurant
Wisconsin Dells, WI
The Cafe Cedar at the Skillet restaurant building is shaped like a riverboat. Parkville is located next to the Missouri River. Does anyone know when this restaurant was built? This photo is from 2010. The restaurant closed by 2016. It housed River Town Relics after that. I believe the building is vacant now. [map]

The Mr. Pancake Restaurant paddleboat was built in 1962. For more, see this website. [map]
Sushi Cruise
Claremont, CA
The Sushi Cruise Japanese restaurant building was built in 1969 for Tugboat Annie's. In 1982, it became the Shrimp House. Later, it became the Sushi Cruise. These photos are from 2013. By 2016, the building was housing Maru Sushi. [map]
Spencer Makenzie's Fish Company
Ventura, CA

2012:

2014:

Spencer Makenzie's Fish Company opened here sometime after 2007. Before that, this boat-shaped building housed Kodani's Japanese Restaurant. It originally housed the Galley Ho! Seafood Drive-in. In 2014, Spencer Makenzie's added a neon sign to the roof and a canopy to the front of the building. [map]
Clearman's Galley
San Gabriel, CA
The Clearman's Galley boat was built in 1913 and carried mail between San Francisco and Alaska. John Clearman bought the boat in 1968. It was installed here and used as a hamburger stand with patio seating. It was part of Clearman's Village. In 2008, the boat was moved a few hundred feet away to make way for a new department store. The boat is now just a showpiece for a much larger indoor restaurant. For more, see this website. In addition to this restaurant, there are also three Clearman's North Woods Inns with snow covered roofs. [map]
Cafe Jack
Los Angeles, CA
Cafe Jack opened in 2006. It was modeled after the Titanic. [map]
The Ship [gone]
Lynnfield, MA
The Ship was built in 1934 and was originally known as "The Ship's Haven". It was advertised as the most authentic ship ever built on dry land. The three-story structure was 26 feet wide and 90 feet long. The same plans were used to build the Landmark Ship in Bonita Springs (described below). By 1963, the ship had been modeled after the USS Constitution. In the early 1960s, the sheet metal exterior was replaced with wood and masts and a figurehead were added. In the 1970s, a barn-like structure was added to the middle of the ship to be used as a lobby. The restaurant was subdivided to accommodate several stores. The Ship went by different names in recent years including the Weathervane Restaurant, Ruggieri's at the Ship, and the Restaurant Mediterranean. It was last known as The Ship Restaurant. In 2017, the ship was demolished. For more, see this website.
The Ship [gone]
Bonita Springs, FL
The Ship was built in 1995 as a faux Spanish galleon with a pirate theme. It was originally an addition to the Springs Garden restaurant. It went by many names over the years including the Landmark Ship, the Bonita Chop House, Bogert's Chop House, the Bonita Rib Room and Club Royale, and the VIP Club Bonita. The ship fore the name of Tony Franco on its hull. These photos are from 2005. The restaurant had been closed since around 2006. In 2015, it was demolished. For more, see this website.
Treasure Ship [gone]
Panama City Beach, FL
The Treasure Ship was built in 1978. The ship was a full-scale, 200-foot-long replica of Sir Francis Drake's Golden Hind, a 17th Century Spanish galleon. The Treasure Ship served as a restaurant and gift shop. In 2010, it suffered a devastating fire. The building was demolished in 2011.
Pirate Ship
Sparks, NV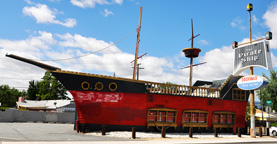 The Pirate Ship opened originally as Cap'n Bill's Fish and Chips in 1971. From 1972-1981, it was known as Neptune's Galley. In 1982, it became the China Clipper. I'm not sure when it became the Pirate Ship. The restaurant has been closed since around 2008. These photos are from 2014. In 2017, the building was painted blue, yellow, and red and was housing Mariscos El Barco. [map]
Captain James Landing
Baltimore, MD
Captain James Landing has diner-like food and seafood specialties and is open 24 hours. The giant ship was built in 1983. [map]
Sailor Tom's [gone]
Reading, MA

| | |
| --- | --- |
| | |
Sailor Tom's opened in 1935 as a three-booth restaurant. The concept was developed by Joseph Lafayette Thompson, aka Sailor Tom, who served in the Navy for 15 years. The restaurant expanded over the years into a 36-acre tourist destination by the 1940s. The faux fishing village featured a WWII PT boat as gift shop and a pond where you could fish for your dinner. The Village was razed in 1955 for a supermarket parking lot. Today, a Home Goods big box store occupies the former site.

Behind the Village, was Sailor Tom's yacht-shaped home shown above. It was 80 feet long and 15 feet wide and made of wood and metal. The bedroom on the upper deck had a ship's steering wheel. The interior walls were paneled in chestnut and walnut and all the fixtures were brass. The original anchor sat in the front yard. In 2005, the house was in pretty poor shape and didn't appear to be occupied. The structure was demolished in 2007 and will be replaced with new housing. For more, see these websites: 1, 2, 3, 4, 5, 6, 7, and 8.
Marty's Show Boat and Supper Club
Three Lakes, WI

Marty's Show Boat and Supper Club was built in 1946 as part of the Northernaire Resort, a 3,000-acre luxury resort. There was a hotel which was demolished in 1995. The golf course still remains as the Big Stone Lake Golf Course. The Show Boat was used as its clubhouse. The golf course and restaurant building were closed and for sale when these photos were taken in 2011. For more, see this website. [map]
Lobster Boat Restaurant
West Yarmouth, MA
Nautico
Seaford, DE
I believe the Lobster Boat Restaurant opened in the 1980s. For more, see this website. [map]

The former Nautico restaurant has been closed since at least 2005. This is a real ship rather than a fake one but I'll include it anyway since it has been permanently moored here for so long. The mast's crow's nest is now an osprey nest. The McKeever Bros. ship was built in Noank, CT in 1911 and was originally used as a fishing boat. From 1917-1919, the ship served in WWII in the Delaware area. After decommissioning, the ship was renamed the Flagship Nanticoke Queen, docked and remodeled as a restaurant. These photos are from 2009. The ship was still vacant in 2018. The windows are boarded up and the canopies have been removed. For more, see this website. [map]
More Ship Restaurants
Canyon King Pizzeria (Page, AZ)
Copper Belle (Phoenix, AZ) [gone]
Barker's Noah's Ark: 1, 2 (Leucadia, CA) [gone]
Reuben E. Lee Riverboat Restaurant (Newport Beach, CA) [gone]
Bernstein's Fish Grotto: 1, 2 (San Francisco, CA) [gone]
The Ship (Santa Cruz, CA) [gone]
Ship Cafe: 1, 2 (Venice, CA) [gone]
Treasure Ship: 1, 2 (Crescent Beach, FL) [gone]
Fergus' Ark (Wilmington, NC; now Fort Walton Beach, FL) [map]
Hurricane Lounge (Pinellas Park, FL) [vintage; gone]
Shrimp Boat chain (various locations in GA) [gone; 1960 ad scan thanks Robby Delius]
Kingfish Restaurant (Bowling Green, KY) [vintage; gone]
Island Timez (Goldsboro, NC)
Mike's Ship-a-Hoy (Long Beach, NY) [gone]
Ship Hotel: 1, 2, 3 (Reels Corners, PA) [gone]
Barquito Seafood (Cut and Shoot, TX)
Bounty Restaurant (Dallas, TX) [vintage; gone]
Spanish Galleon Restaurant (San Antonio, TX) [vintage; gone]
Top of the Ocean (Tacoma, WA) [vintage; gone]
RoadsideArchitecture.com

Copyright. All photos at this website are copyrighted and may only be used with my consent. This includes posting them at Facebook, Pinterest, blogs, other websites, personal use, etc.

Tips & Updates. If you have suggestions about places that I haven't covered, historical info, or updates about places/things that have been remodeled or removed, I'd love to hear from you: roadarch@outlook.com.