(hit "refresh" to get the most recent version of this page; click on photos for larger images)
former Flagship 29
Union, NJ

In the mid-1930s, Donahue's, a nightclub/restaurant was decorated in a nautical style. When it burned down, this oceanliner structure was built to replace it. Flagship 29, 225 feet long and 70 feet wide, opened in 1938 as a nightclub. It had a two-dimensional sailor on the roof that waved signal flags. It was condemned in 1941 and burned down in 1942. It was rebuilt after World War II and reopened again as a nightclub which hosted entertainers like Dean Martin and Jackie Gleason. In the 1950s, the nightclub featured big-name rock and roll stars. By 1960, the ship was in use as an American Shops clothing store. In the early 1960s, there were plans to turn it into a strip club. In the mid-1960s, another nightclub failed, as did a dinner theater in 1968.

In the 1970s, the building housed a furniture store and U-Haul agency. By the time Brick Church Appliances bought the building, it was falling apart. Brick Church demolished and rebuilt it. The new ship faced the opposite direction. The building later housed Wiz electronics store (middle row of photos). In 2003, "For Lease" signs went up and the parking lot was used as the temporary home for Planet Honda. In 2004, the ship became the new home to a P.C. Richard & Son, another electronics store (two bottom row of photos). For more, see this website. [scans second row thanks Tom Haggerty] [map]
The Boat [gone]
Vernon, NY
The Boat is 90 feet long and was built in 1923 as a restaurant and bar. In 2003, it was still open but up for sale. By 2005, the restaurant officially closed. In 2010, the building was still vacant. By 2011, the place had reopened. The building was still there in 2015. By 2018, the restaurant had closed and the building had been completely remodeled with all ship-like details removed. For more, see this website.
Diamond Jim's Gentlemen's Club
Janesville, WI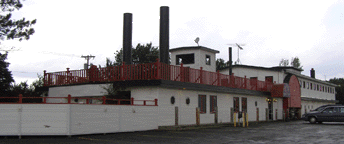 Diamond Jim's Gentlemen's Club was originally a restaurant. It has been here since at least the 1950s. The two-story building in back was constructed later. The faux smokestacks were removed sometime between 2007 (first photo above) and 2011 (two bottom photos). The restaurant was called "The Landing" at one time but I don't know if that was the original name. The place is also referred to as Diamond Jim's Isabella Queen. Does anyone know more about the history of this building? [map]
The Ark
Jacksonville, NC
The Ark has been here since at least the 1980s. Does anyone know when it was built or anything else about the place? For more, see this website. [map]
Tognazzini's Dockside Restaurant [gone]
Morro Bay, CA
Tognazzini's Dockside Restaurant had occupied this boat-shaped building since 2004. The building was built in the 1950s as the Finicky Fish Market. Later, it housed the Thai Boat and, after that, the Thai Bounty restaurants. In 2018, the building was demolished for new development. Parts of the building were saved and put in storage. For more, see this website.

There was also a Ship Cafe in Morro Bay which is gone now.
RoadsideArchitecture.com

Copyright. All photos at this website are copyrighted and may only be used with my consent. This includes posting them at Facebook, Pinterest, blogs, other websites, personal use, etc.

Tips & Updates. If you have suggestions about places that I haven't covered, historical info, or updates about places/things that have been remodeled or removed, I'd love to hear from you: roadarch@outlook.com.