(hit "refresh" to get the most recent version of this page; click on photos for larger images)
Burger Boy opened in 1967. There has only been this one location. [map]
Char-Grill
Raleigh, NC
The Char-Grill featured flame-broiled burgers and a unique ordering system. Customers filled out slips of paper and slipped them through a slot. When orders were ready, they were called out over the loudspeaker. There are three other locations in Raleigh but this was the original, built in 1959. In 2022, it was announced that this location would be closing. The site will be redeveloped but the Char-Grill facade will be recreated as part of the new building. [vintage photo thanks Robby Delius] [map]
Skylight Inn
Ayden, NC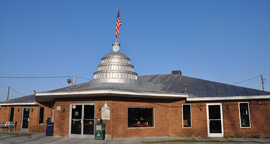 The Skylight Inn opened in 1947. In 1988, National Geographic Magazine called it the "Barbecue Capitol of the World". The restaurant then added a replica of the U.S. Capitol to their roof. For more, see this website. [map]
Little Mint restaurants were part of an eastern North Carolina chain. It was founded in the mid-1960s by Wilber Hardee who previously developed Hardee's restaurants. The chain was gone by the mid-1980s or so. About 10 buildings still survive although they now house other businesses. The Little Mint building in Windsor, NC still has the original sign and building although it's now known as the Little Golden Skillet. The Windsor, Hertford, and other locations featured Pizza Hut-like signs and roofs. That similarity that did not sit well with Pizza Hut which drove at least one Little Mint to make modifications. The first Little Mint was built in Greenville, NC. Other early Little Mint locations used a diamond and pole style sign like this one in Union, SC. [scan and photos of Grifton and Southern Pines locations thanks Robby Delius]
Little Mint
Hertford, NC
former Little Mint
Grifton, NC
former Little Mint
Southern Pines, NC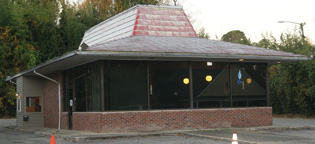 This Little Mint in Hertford is the only location still using the name. Although technically, it's now the New Little Mint. [map]

The Little Mint building in Grifton now houses the China Star restaurant. [map]

The Little Mint building in Southern Pines now houses Bruce's Tavern. [map]
More former Little Mints:
Beaufort, NC
Elizabeth City, NC
Greenville, NC
New Bern, NC
Robersonville, NC
Sanford, NC
Siler City, NC [map]
Tabor City, NC
Wallace, NC
Warsaw, NC [gone]
Windsor, NC
Mullins, SC [map]
former Ray's Starlight Restaurant
Mount Airy, NC

2001:
2010:
Ray's Starlight Restaurant was founded by Ray Goad and opened in 1955. By 2010, the building was housing B52's America's Favorite Bar & Grill. The building was missing the steeple and rooftop sign at that point. By 2013, the building was housing JB's Nite Life. That business closed in 2014. By 2019, the building was housing Happy Hours. [map]
With the success of the Ray's Starlight restaurant (see above), Ray Goad branched out into the fast food business in 1964. His Ray's Kingburger chain was based in Mount Airy, NC. By 1969, there were about 12 locations in North Carolina and three in Virginia. In 1972, the chain branched out to eastern North Carolina which was Hardees country. Kingburger's success there was attributed to its breakfast menu featuring biscuit sandwiches. Hardees and, later, McDonald's began opening earlier and offering the same. By the time the Kingburger chain folded in the 1980s, there were around 50 locations. The Kingburger buildings looked similar to the Marriott Hot Shoppes which was a Washington, DC based chain founded in the mid-1960s. [scan thanks Robby Delius]
former Ray's Kingburger [gone]
Burlington, NC
former Ray's Kingburger
Mount Airy, NC
The Ray's Kingburger in Burlington opened in 1968. Dottie's Starlite opened in the building in 2005. This photo is from 2006. Dottie's relocated in 2007. The building remained vacant until 2010 when it was demolished. The roof and the colored panels were original.

This Ray's Kingburger in Mount Airy now houses Porkey's Bar-B-Que. It is the most intact example of these Kingburger buildings. [map]
former Ray's Kingburger
Kinston, NC
former Ray's Kingburger [gone]
Goldsboro, NC
This Ray's Kingburger in Kinston housed the Supreme Deli & Subs when this photo was taken in 2010. The building later housed the Vernon Street Deli. By 2016, it was known as the Supreme Deli Express. [map]

This Ray's Kingburger in Goldsboro now houses the Los Fagones restaurant. The building was remodeled around 2016 and looks nothing like the original. [photo thanks Robby Delius]
RoadsideArchitecture.com

Copyright. All photos at this website are copyrighted and may only be used with my consent. This includes posting them at Facebook, Pinterest, blogs, other websites, personal use, etc.

Tips & Updates. If you have suggestions about places that I haven't covered, historical info, or updates about places/things that have been remodeled or removed, I'd love to hear from you: roadarch@outlook.com.