(hit "refresh" to get the most recent version of this page; click on photos for larger images)
Mugs-Up Drive-in
Columbia, MO
This Mugs-Up Drive-in opened here in 1955 in a Valentine diner. It features homemade root beer and Zip Burgers. Mugs-Up was a Kansas City area chain established in the early 1950s with nine locations at one time. There is only one other location now that I know of which is in Independence, MO (see below). There was another one in Holts Summit, MO which looked modern and now houses a Mexican restaurant. [map]
Bill & Ann's Mugs-Up Root Beer
Independence, MO
The Bill & Ann's Mugs-Up Root Beer stand was built in 1956. It was part of the Kansas City chain described above. There may have been locations outside of Missouri as well. There was a Mugs-Up in Huntsville, AL that served Zip's Burgers. [map]
Eddie's Drive-in [gone]
Sedalia, MO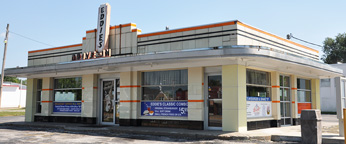 Eddie's Drive-in opened here in 1937 as the first drive-in in Missouri. The restaurant was built by the Winstead family. These photos are from 2010. Eddie's closed in 2013. The building was still vacant in 2014. It was demolished in 2016.
Wheel Inn Drive-in [gone]
Sedalia, MO
The Wheel Inn Drive-in opened in 1947 and is famous for their Guberburgers (hamburgers topped with peanut butter). The location shown above was demolished in 2007 for road expansion and the restaurant was relocated in town. I believe the neon wheel and text signs were sold on eBay in 2008. The new location has a replica of the neon wheel installed above a plastic box sign (photo bottom right). There is a horseshoe-shaped counter and stools at the new location but I don't know if they are the originals. For more, see these websites: 1, 2, and 3.
Chuck-a-Burger
St. John, MO
The first Chuck-a-Burger opened in 1955. They expanded to eight locations by 1973. This location opened in 1957 and is the only one left. The drive-in's original sign was destroyed during a storm around 2006. [map]
Burger Bar
Carrollton, MO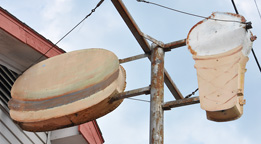 The Burger Bar was probably built in the 1950s. There was a "Bruce's Burger Bar" established in Carrollton in 1951 but I don't know if this is the same place. These photos are from 2010. By 2013, the drive-in building and canopy had been replaced with a new restaurant building. The sign is still there. [map]
former Boots Drive-in Cafe
Carthage, MO
The Boots Drive-In was built in 1946. It closed in 1970 and was remodeled as the Great Plains Federal Credit Union. The building is across the street from the Boots Motel which was also owned by Arthur Boots. [map]
Hi Boy Drive-in
Blue Ridge Cutoff
Independence, MO
Hi Boy Drive-in
Highway 24
Independence, MO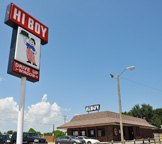 The Hi Boy Drive-in was established in 1957 with the location shown first above. My guess is that the second location shown above is from the late 1950s or early 1960s. The company's third location is much more modern looking. For more, see these websites: 1 and 2. [Blue Ridge Cutoff map]; [Highway 24 map]
RoadsideArchitecture.com

Copyright. All photos at this website are copyrighted and may only be used with my consent. This includes posting them at Facebook, Pinterest, blogs, other websites, personal use, etc.

Tips & Updates. If you have suggestions about places that I haven't covered, historical info, or updates about places/things that have been remodeled or removed, I'd love to hear from you: roadarch@outlook.com.