(hit "refresh" to get the most recent version of this page; click on photos for larger images)
White Grill
Nevada, MO
The White Grill was established in 1938. [map]
Town Topic Sandwich Shop
Baltimore Ave.
Kansas City, MO
Town Topic Sandwich Shop
Broadway
Kansas City, MO
Finish Line Cafe
Kansas City, MO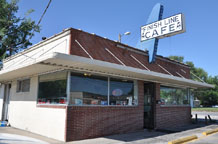 The Town Topic Sandwich Shop, aka Town Topic Hamburgers, has two locations just a few blocks apart. The original location which is gone now opened in 1937. The signs were designed by Noel Barnes of Signs, Inc. Both of these remaining locations are open 24 hours and have been around since at least the 1950s. For more, see these websites: 1 and 2.

The building at the Broadway location originally housed Eat-Moore Hamburgers. It began housing a Town Topic in 1944. [map]

The Finish Line Cafe must have been a Town Topic originally. It had closed by 2017 and remains vacant. [map]

There was a more modern location in Mission, KS which was originally known as Whopper Burger. It now houses the Snack Shack.
Winstead's Restaurant
Kansas City, MO
Winstead's Restaurant
Blue Springs, MO
Winstead's Restaurant began selling steakburgers and frosties (malts) at this Kansas City location in 1940. I believe the Blue Springs location is from the 1980s or so, built in the style of the original location. Winstead's has about seven other locations in the Kansas City area. All of the buildings appear to be modern but have glazed brick and a roof tower which makes them look much older. [night photos thanks Glenda Campbell] [Kansas City map]; [Blue Springs map]
former Hen House Restaurant
Bourbon, MO
Waid's Restaurant [gone]
Kansas City, MO
The Hen House Restaurant chain was established in 1969 and at one time had 42 locations in five states. This location now houses the Barn and Grill Restaurant. [map]

Waid's Restaurant opened their first location in 1953. In 2006, this location became "Poco's Mexican" and the sign was removed. The toaster collection is also gone. I don't know how many locations Waid's had, but there seem to be only a couple left now around Kansas City. I don't believe there are any signs like this left. For more, see these websites: 1 and 2.
former Colonel's Pancake House
Joplin, MO
The Colonel's Pancake House opened around 1960. The building was painted green in 2008. It appears from the faded paint behind the Colonel character that this restaurant was originally known by another name beginning with "W". Could this have been a Waid's at one time? These photos are from 2010. Between 2012 and 2014, the building was repainted grey. The rooftop sign was repainted black. The upper panel on the pole sign is now backlit plastic while the lower panel is now a message board. By 2016, the building housed a Mexican restaurant and the signs had been repainted. [map]
White Knight Diner
St. Louis, MO
The White Knight Diner opened in 1952 as the Courtesy Diner. Its success led to development of a chain with 11 other locations. When the owners split up, six of the restaurants remained Courtesy Diners while the oher six were renamed Super Sandwich Shops. As far as I know, none of these other locations are still standing. The name of this location was changed from Super Sandwich Shop to the White Knight Diner in 1989 during the filming of the movie "White Palace". The flags and castle look were added during the filming and still remain. [map]
Eat-Rite Diner
St. Louis, MO
Maid-Rite
Lexington, MO
The Eat-Rite Diner operated as a gas station in the 1920s. It was converted into the White Kitchen restaurant in 1936. In 1957, it became the Regal Sandwich Shop. In the 1960s and 1970s, it was known as the Gateway Sandwich. In 1986, it was renamed the Eat-Rite Diner. It features counter service with about a dozen stools. In 2003, the building was repainted as part of a Hampton Inn landmark restoration project. In 2020, the Eat-Rite closed. In 2021, it was announced that the building would begin housing Fleur STL in 2022. The plastic panels on the roof have been replaced with replica billboards for Ski and other soda beverages. There are a couple of other Eat-Rites in the St. Louis area but this is the most vintage-looking building. For more, see these websites: 1 and 2. [map]

The Maid-Rite chain was established in Iowa in 1926. This location opened in 1946. There is car hop service. Around 2013, the sign was repainted but the neon was removed. For more, see these websites: 1 and 2. [map]

There are or were several other old Maid-Rite locations including these in Iowa, Macomb, IL, Quincy, IL, Springfield, IL, and Greenville, OH. There are also new locations being built as well.
RoadsideArchitecture.com

Copyright. All photos at this website are copyrighted and may only be used with my consent. This includes posting them at Facebook, Pinterest, blogs, other websites, personal use, etc.

Tips & Updates. If you have suggestions about places that I haven't covered, historical info, or updates about places/things that have been remodeled or removed, I'd love to hear from you: roadarch@outlook.com.