(hit "refresh" to get the most recent version of this page; click on photos for larger images)
The Denny's buildings shown on this page and the next were also designed by Armet & Davis around 1964. They called the design the "cupcake". I have nicknamed this style the "crown roof" type. For more, see this website.
Denny's
Wenatchee, WA
This still operating Denny's building is particularly intact and well-maintained. [map]
former Denny's
Bryan, TX
former Denny's [gone]
Junction City, KS
This former Denny's in Bryan now houses a Kettle Restaurant. [map]

This former Denny's in Junction City was still operating as a Denny's in 2009. The building housed Napoli's Italian Restaurant when this photo was taken in 2010. By 2012, the restaurant had closed. Around 2015, the building housed the Greek Heroes restaurant. That had closed by 2016. By 2018, the building had been demolished.
former Denny's
Dallas, TX
This former Denny's now houses the Midway Hollow Pet Clinic. [map]
Denny's
Denton, TX
This Denny's is another well-preserved example of the crown style roof. The upper, crown part of the building has been replaced. [map]
Denny's [gone]
Kansas City, MO
This Denny's was another well-preserved example with a modified crown. It was demolished in 2021.
Denny's
Colorado Springs, CO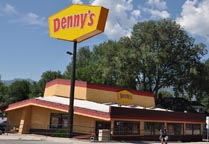 This Denny's was still operating until 2016. The crown roof has been modified. The location had closed by 2017 and has been surrounded with chain link fencing since 2018. It was still boarded up and vacant in 2021. [map]
Denny's
King City, CA

Denny's
Modesto, CA
Denny's
Salinas, CA
Denny's
San Diego, CA
Denny's
Emeryville, CA
Denny's
Riverside, CA
Denny's
Crescent City, CA
Denny's
El Paso, TX
There are many other Denny's crown-style buildings still operating around the country including those shown above. The Riverside location was built in 1967. The building was sold in 2017 but Denny's signed another 20-year lease at that point. The San Diego location closed in 2019 and the signs were removed. I don't know if the building will be repurposed or demolished. [King City map]; [Modesto map]; [Salinas map]; [San Diego map]; [Emeryville map]; [Riverside map]; [El Paso map]

Like most of these crown-style buildings, the Crescent City building and sign have been repainted beige and remodeled slightly. In 2005, this location had a green roof. [map]
RoadsideArchitecture.com

Copyright. All photos at this website are copyrighted and may only be used with my consent. This includes posting them at Facebook, Pinterest, blogs, other websites, personal use, etc.

Tips & Updates. If you have suggestions about places that I haven't covered, historical info, or updates about places/things that have been remodeled or removed, I'd love to hear from you: roadarch@outlook.com.