(hit "refresh" to get the most recent version of this page; click on photos for larger images)
former Burger Chef
Danville, VA
This former Burger Chef is now used as the Long River Restaurant. [first photo thanks Robby Delius] [map]
former Burger Chef
Martinsville, VA

This former Burger Chef housed a curtains store when this photo was taken in 2006. By 2012, the building housed A1 Business Solutions. By 2015, it was housing a Boost Mobile store. The building now houses a cell phone repair shop. [photo thanks Robby Delius] [map]
former Little Nugget Hamburgers
Martinsville, VA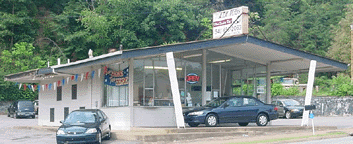 This former Little Nugget Hamburgers housed ATM Motors when this photo was taken in 2006. The building now houses Wrap, Pack & Mail. The building design is somewhat similar to that used by Burger Chef. [photo thanks Robby Delius] [map]
former Burger Chef
Petersburg, VA
This former Burger Chef now houses Sal's Pizza & Italian Restaurant. [second photo thanks Robby Delius] [map]
former Burger Chef
Richmond, VA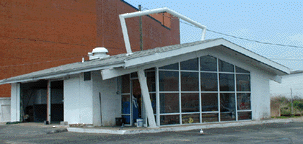 This former Burger Chef appears to be owned and/or partially used by the auto repair business next door. The sign is gone. [map]
former Burger Chef
Spokane, WA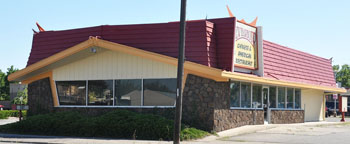 The former Burger Chef now houses the New Harbour Chinese restaurant. It was built in 1971. [map]
former Burger Chef [gone]
Kenosha, WI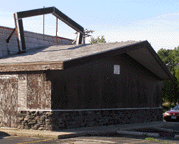 There wasn't much left of this Burger Chef when this photo was taken in 2006. It seemed to have last been used as Murphy's Pub & Grill. By 2012, the building was gone.
former Burger Chef
Kenova, WV
former Burger Chef
Martinsburg, WV
This Burger Chef in Kenova closed around 1985. The building now houses a Stewarts Original Hot Dogs. For more, see this page. [map]

This former Burger Chef in Martinsburg was vacant when this photo was taken in 2012. It previously housed Union Sales Dodge. By 2015, the building had been remodeled and the front of the building no longer looked like a Burger Chef. [map]
RoadsideArchitecture.com

Copyright. All photos at this website are copyrighted and may only be used with my consent. This includes posting them at Facebook, Pinterest, blogs, other websites, personal use, etc.

Tips & Updates. If you have suggestions about places that I haven't covered, historical info, or updates about places/things that have been remodeled or removed, I'd love to hear from you: roadarch@outlook.com.