Quanah Drive-ins:
Chief Drive-in: 1, 2
Santikos Mission 4 Drive-in Theatre
San Antonio, TX
2006:
2011:
2018: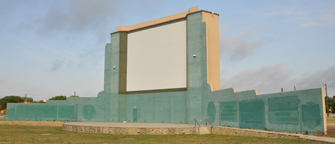 The Santikos Mission 4 Drive-in Theatre opened in 1948. There were two screens in the 1970s and two more added later. This drive-in closed in 2007. In 2009, it was announced that a library and park would be built on the site while the screen tower would be preserved. In 2011, the screen tower was being restored. In 2013, the screen tower was repainted and LED tubing added to simulate the original neon look. Missing from the new mural are the Mexican figures: a snoozing man wearing a sombrero and another man walking a burro. Instead, a Mexican family and some casitas were depicted on the left. The park is known as Mission Marquee Plaza. For more, see these websites: 1, 2 and 3. [map]
Starlite Drive-in
Schertz, TX
The Starlite Drive-in has been closed for many years but the ticket booth is still standing. This photo is from 2008. By 2013, the letters had been removed from the roof of the ticket booth. For more, see this website. [map]
Midway Drive-in
Sweetwater, TX
2006:
2021:
The Midway Drive-in was built in 1948 and has been closed since the mid-1970s. For more, see this website. [map]
Midway Drive-in
Turkey, TX
Sky Vue Drive-in [gone]
Tyler, TX
The Midway Drive-in was built in 1955. It closed in 1987 but then reopened in 2000. It has closed and reopened a couple times since then. [map]

The Sky Vue Drive-in opened in 2007. This sign was built at that time. The drive-in closed in 2017. Although there were plans to move, nothing had happened by 2018. By 2021, the sign was gone.
Circle Drive-in
Waco, TX

2011:
2018: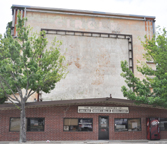 The Circle Drive-in opened in 1947 and closed in 1982. The screen tower's mural originally depicted two Indians at a campfire. In 1964, the scene was replaced with a bear running through a stadium. This mural has faded badly over the years and is barely visible now. The bear is the mascot of the local college, Baylor University. The base of the screen tower is now used as an insurance office while the parking area is used for the Treasure City Flea Market. For more, see this website. [map]
RoadsideArchitecture.com

Copyright. All photos at this website are copyrighted and may only be used with my consent. This includes posting them at Facebook, Pinterest, blogs, other websites, personal use, etc.

Tips & Updates. If you have suggestions about places that I haven't covered, historical info, or updates about places/things that have been remodeled or removed, I'd love to hear from you: roadarch@outlook.com.