(hit "refresh" to get the most recent version of this page; click on photos for larger images)
Dinosaur
Port Townsend, WA
This Dinosaur is located at Eaglemount Rockery Cottages. There are lots of other statues of people and miniature buildings which were built in the late 1940s and 1950s. For more, see this website. [map]
Pacific Science Center
Seattle, WA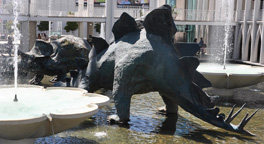 These two dinosaurs, a triceratops and a stegosaurus, are installed in the fountain at the Pacific Science Center. I believe they were installed in 1962 when this World's Fair complex was built. For more, see these websites: 1, 2, and 3.
Topiary Dinosaurs
Seattle, WA
These two Topiary Dinosaurs were originally installed at the Pacific Science Center in the 1980s. These mother and baby apatosaurs were moved here to the Fremont neighborhood in 1999. The mother is about 66 feet long. [map]
This metal Triceratops statue is 10 feet tall. It came from Mexico and was installed at the La Plaza Wenatchee shopping center in 2012. It was originally painted gold. It was repainted in 2015. These photos are from 2016. For more, see this website. [map]
Ginkgo Gem Shop
Vantage, WA
These Dinosaurs were created in 1994 to promote tourism. There are about two dozen life-sized statues in Hisey Park, as well as many more scattered throughout town. They are cement over a steel and chicken wire frame. One dinosaur (last photo above) is steel mesh. Granger's slogan is "Where Dinosaurs Roam". [map]
RoadsideArchitecture.com

Copyright. All photos at this website are copyrighted and may only be used with my consent. This includes posting them at Facebook, Pinterest, blogs, other websites, personal use, etc.

Tips & Updates. If you have suggestions about places that I haven't covered, historical info, or updates about places/things that have been remodeled or removed, I'd love to hear from you: roadarch@outlook.com.