(hit "refresh" to get the most recent version of this page; click on photos for larger images)
Clyde's Bistro & Barroom (now Katz Club Diner)
Cleveland Heights, OH


| | |
| --- | --- |
| | |
| | |
| --- | --- |
| | |
Clyde's Bistro & Barroom opened in 2009 and featured two diners. The 1949 O'Mahony (third row of photos above) was originally located in Berwick, PA where it was known as the Berwick Diner. The 1952 Mountain View (top two row of photos) was originally installed in Atlantic City, NJ where it was named the Terminal Diner. These diners were restored by Steve Harwin and operated at this site as Dottie's Diner and the Sweet City Diner. Later, the diner pair operated as Chris & Jimmy's. During remodeling for Clyde's Bistro, the interiors of both diners were gutted. One of them is now used as a bar.

These photos are from 2010. In 2011, the diner was sold and reopened as the Favor Bistro. In 2013, the place reopened as the Katz Club Diner. In 2014, a fire gutted the Mountain View diner. It was demolished and replaced with a garden. The O'Mahony diner was not damaged in the fire. The Katz Club reopened in 2015 as a pop-up restaurant. It looks like that business might have closed as well. For more, see these websites: 1 and 2. [map]
former Pearl Club
Dayton, OH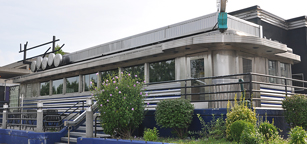 The Pearl Club nightclub occupied a Mountain View diner from around 1954. This diner was originally installed here in the late 1980s and operated as The Diner on St. Clair. Around 2006, it was converted into the nightclub. In 2009 just after this photo was taken, Club Vex took over the space. In 2016, the diner began housing the Cloverdale. It closed a year later and is still vacant. [map]
Nancy's Main Street Diner
Grafton, OH
Nancy's Main Street Diner is a Silk City from 1949. It opened here in 2008. It was originally located in Exton, PA and known as the Exton Diner. Later, it became the Windmill Diner in Ono, PA. It was then moved to Boston, MA where it was known as the Big Dig Diner. For more, see these websites: 1 and 2. [map]
Emerald Diner
Hubbard, OH
The Emerald Diner is a "Monarch style" O'Mahony from 1939. It is appropriately located in an Irish-American town. It was previously known as Burt's Diner when it operated in Norwich, CT. It was remodeled by O'Mahony in the 1950s and was there for about 40 years. When it closed in the mid-1980s, it sat for about ten years in a cornfield. In 1994, the diner was rescued by James P. Marsh and moved here. It was fully restored and then opened in 1995. It has the original checkered tile floors, scalloped stainless steel back wall, and mahogany ceilings. In 2012, the diner was badly damaged by a fire. The interior had to be completely rebuilt. The diner reopened in 2017. [map]
Steel Trolley Diner
Lisbon, OH
The Steel Trolley Diner is an O'Mahony from 1955. I believe it has always been at this location. [map]
Crosser Dinette [gone]
Lisbon, OH
The Crosser Dinette is a 1940 Sterling (their non-streamline "Dinette" model - one of only 4 left). It opened around 1944 and was owned by John Howard "Wimpy" Crosser and his wife. They also owned an adjacent gas station. Crosser ran the gas station while his wife ran the diner. When the Crossers moved west around 1974, the building changed hands. It had been for sale since 1996 and closed since at least 2002. In 2008, the roof began to collapse and the panels were removed. It is hoped that the diner will be reassembled someday, possibly near St. Louis, MO. For more, see this website.
RoadsideArchitecture.com

Copyright. All photos at this website are copyrighted and may only be used with my consent. This includes posting them at Facebook, Pinterest, blogs, other websites, personal use, etc.

Tips & Updates. If you have suggestions about places that I haven't covered, historical info, or updates about places/things that have been remodeled or removed, I'd love to hear from you: roadarch@outlook.com.