(hit "refresh" to get the most recent version of this page; click on photos for larger images)
abandoned diner
Ashland, OH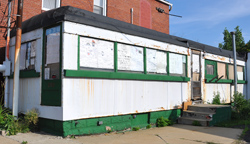 This abandoned diner is a Brill from the 1930s. It went by the names of The Diner, Sherrick's Diner and Peg's Diner until it closed around 1971. After that, it was painted orange and black and served as the office for V-Tech, a motorcycle repair business. Around 2003, the diner was painted white and used as a consignment shop known as The Treasure Chest. I believe the building has been vacant since 2008. This photo is from 2009. The diner was repainted yellow, purple, and red by 2012. The diner was still vacant in 2019. [map]
NuNu's Diner
Canton, OH
This 1959 Kullman was about to reopen as the LA City Diner when these photos were taken in 2010. As of 2012, the sign remained white. By 2015, it was known as NuNu's Diner. By 2017, it was housing Sister's Soul Food. This diner has had many owners and names over the years including George's Diner, Nick's Diner, Bill & Mary's Diner, and the City Diner. It was originally known as the Towne 30 Diner and served as a companion business for the Towne Manor Motel next door. [map]
Vinyl (in 2009)
Cincinnati, OH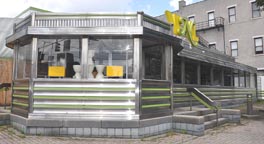 Joe's Diner (in 2012)
Cincinnati, OH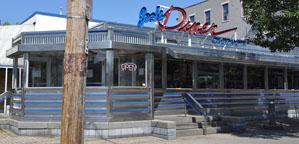 This Mountain View diner was built in 1955. It was originally located in Massillon, OH. It was moved here in 1984 and known as the "The Diner on Sycamore". It operated as Vinyl from 2006-2007. The diner remained vacant until 2010 when it reopened as Joe's Diner. These photos are from 2012. Joe's had closed by 2016. In 2020, it was announced that the Sugar n' Spice Diner would open a second location there by the end of the year. For more, see this website. [map]
Harley Diner
Cleveland, OH
The Harley Diner is located at the South East Harley-Davidson dealership. The diner was produced by Worcester (#796) in 1946. It is located inside the showroom and functions as a café. It was originally known as Leo's Diner and located in Rochester, NH.
Somer's Diner [gone]
Cleveland, OH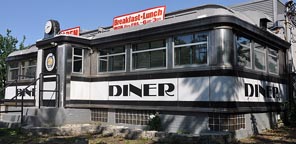 Somer's Diner was an O'Mahony from 1938. It previously operated as Ruthie & Moe's Diner until it closed in 2006. In 2007, the diner was renovated and reopened as Somer's Diner. This photo is from 2009. In 2010, the diner was closed again and boarded up. By 2012, the panels and stainless steel were removed. In 2013, the diner was demolished. For more, see this website.
Charlie's Dog House
Cleveland, OH
Charlie's Dog House is a Valentine diner from 1952. It was the first location in the Dog House restaurant chain. The building has been extensively remodeled. For more, see this website. [map]
RoadsideArchitecture.com

Copyright. All photos at this website are copyrighted and may only be used with my consent. This includes posting them at Facebook, Pinterest, blogs, other websites, personal use, etc.

Tips & Updates. If you have suggestions about places that I haven't covered, historical info, or updates about places/things that have been remodeled or removed, I'd love to hear from you: roadarch@outlook.com.