(hit "refresh" to get the most recent version of this page; click on photos for larger images)
Valentine diner
Auburn, IN
This Master model Valentine diner is located inside the National Automotive and Truck Museum. It was originally installed in Angola, IN in 1948. It was moved to the museum in 1993 and disassembled. Restoration began in 2010. Most of the exterior paneling was rusted and needed to be replaced. The diner is now on display while work on the interior continues. For more, see this website.
Flo's Roadside Diner [gone]
Clarks Hill, IN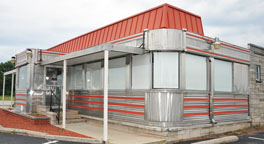 Flo's Roadside Diner is a Mountain View from around 1952. Previous names include: Shirley's Restaurant, the Rose Haven Restaurant, the Duck In Diner, and Alexander's Sit-N-Bull. Although it opened as Flo's in 2010, when these photos were taken later that same year, the diner appeared to be closed. It was still vacant in 2018. In 2019, the diner was struck by a car, causing significant damage. In 2021, the diner was moved to storage. There are plans to restore it and install it in a public place in Frankfort, IN. For more, see these websites: 1 and 2.
Cindy's Diner
Fort Wayne, IN
Cindy's Diner was built in 1954. This Valentine diner is a double-length Little Chef model. It has gone by many names over the years including "Jack's Diner", "Paul's Diner", and "Marge's Diner". Since 1990, it has been known as "Cindy's Diner". These photos are from 2009. In 2014, the diner was moved and reopened at a new spot in town. For more, see these websites: 1 and 2. [map]
Burch's Family Restaurant [gone]
Gary, IN
Burch's Family Restaurant is a Mountain View diner (#314) from 1953. It was closed for many years before being demolished in 2008.
South Side Soda Shop and Diner
Goshen, IN
The South Side Soda Shop and Diner built this diner-like addition in 1993 for additional seating. For more, see these websites: 1, 2, and 3. [map]
Subway
Indianapolis, IN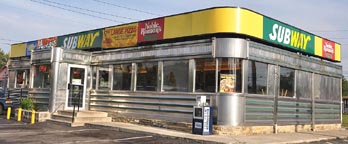 This Subway restaurant occupies a 1954 Mountain View diner. It was previously known as Connie's Soul Food Diner and, before that, the Meadowbrook Diner. For more, see this website. [map]
Sanitary Diner
Indianapolis, IN

The Sanitary Diner is an O'Mahony diner (#1121) from 1937. It was installed in Cleveland, OH from 1942-1956 as part of the American Diners chain. After that, it was moved to Munster, PA. In 1995, the diner was sold to Diversified Diners where it was restored. It was installed here in 2010 where it serves lunches to employees of Angie's List. I don't believe it is open to the public. For more, see this website. [map]
RoadsideArchitecture.com

Copyright. All photos at this website are copyrighted and may only be used with my consent. This includes posting them at Facebook, Pinterest, blogs, other websites, personal use, etc.

Tips & Updates. If you have suggestions about places that I haven't covered, historical info, or updates about places/things that have been remodeled or removed, I'd love to hear from you: roadarch@outlook.com.