(hit "refresh" to get the most recent version of this page; click on photos for larger images)
Silver Diner [gone]
Waterbury, CT
The Silver Diner is a Mountain View from around 1949. Later renovations were done by Manno. It was originally located in Easton, PA where it was known as the Lafayette Diner. It was moved here in 1994. This diner closed in 2006. These photos are from 2009. The diner was moved into storage in 2011 due to on-site construction. For more, see this website.
West Hartford:
Quaker Diner: 1, 2 [map]
Georgie's Diner
West Haven, CT

Georgie's Diner is a DeRaffele from 1956. It operated in Stratford, CT as the Duchess Diner until 1967. It was then moved here and renamed the Elm Diner. In 2009, the name was changed to Georgie's. For more, see this website. [map]
Makris Diner
Wethersfield, CT
former Mickey's Windham Diner [gone]
Willimantic, CT (now Philadelphia, PA)
Mickey's Windham Diner was housed in a Mountain View (#281) from 1950. The diner originally operated here until 1971. It was then moved and operated in Southington, CT. In the 1980s, it operated at two different locations in Waterbury, CT. It returned to Willimantic and reopened in 2005 using the original name. In 2007, the owners completely renovated their Big Boy statue. These photos are from that year. After Mickey's, the diner housed Jonathan's Club Car Cafe. By 2016, the diner was closed and put up for sale. In 2018, the diner was moved to Philadelphia where it will be known as the Wayne Junction Diner. I don't believe anything has happened with that yet. The Big Boy statue was still at the Willimantic site in 2019 but it was gone by 2021.
Trolley Pub on Main
Willimantic, CT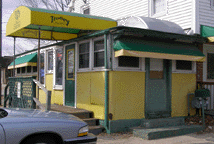 The Trolley Pub on Main is a Ward & Dickinson, built around 1930. The diner's panels are now covered with dark blue vinyl siding. [map]
RoadsideArchitecture.com

Copyright. All photos at this website are copyrighted and may only be used with my consent. This includes posting them at Facebook, Pinterest, blogs, other websites, personal use, etc.

Tips & Updates. If you have suggestions about places that I haven't covered, historical info, or updates about places/things that have been remodeled or removed, I'd love to hear from you: roadarch@outlook.com.