(hit "refresh" to get the most recent version of this page; click on photos for larger images)
O'Rourke's Diner
Middletown, CT
O'Rourke's Diner is a Mountain View from 1946. It was destroyed by a fire in 2006 and rebuilt. For more, see these websites: 1 and 2. [map]
Milford Diner
Milford, CT (moved to Indiana)
Kimberly Diner [gone]
Milford, CT
The Milford Diner is a Silk City diner from 1946. It has been closed since 2003. This photo is from 2009. That year, it was announced that it would be adapted for use as a community and information center. As of 2017, the diner was still vacant. In 2018, the diner was moved to storage on private property in Indiana. There were plans to restore and reopen it but I don't believe anything has happened with the diner. For more, see these websites: 1 and 2.

The Kimberly Diner was a DeRaffele from around 1961. This photo is from 2009. In 2013, it was announced that the diner had until the end of the year to find a buyer. In 2014, the diner was demolished.
Miss Washington Diner
New Britain, CT
The Miss Washington Diner is a Kullman Princess from around 1962. [map]
New Star Diner
New Haven, CT
The New Star Diner is a Fodero from around 1963. It was previously installed in Ansonia, CT where it was known as the New State Diner. It was moved here in 1995. [map]
Tandoor
New Haven, CT
The Tandoor Indian restaurant occupies a 1955 Mountain View (#445). It has been the Tandoor since 1993. [map]
Olympia Diner
Newington, CT
The Olympia Diner was originally installed in Massachusetts. It is possibly the largest O'Mahony ever built. The diner was installed in Newington in 1954. For more, see these websites: 1 and 2. [map]
Collin's Diner
North Canaan, CT
Aero Diner
North Windham, CT
The Aero Diner is a Bramson diner from 1958. There were only two diners built by Bramson and the fate of the other one is unknown. This diner was originally located in East Hartford. It was moved to South Windham in the 1960s and to this location in 2005. The neon sign was created at that time. For more, see these websites: 1 and 2. [map]
Family Diner
Norwalk, CT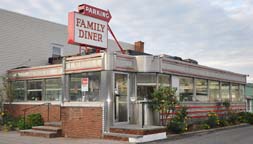 The Family Diner is a Mountain View from the 1950s. [map]
Main Street Diner
Plainville, CT
The Main Street Diner is a Master Diner from the 1950s. [map]
Torrington:
Skee's Diner: 1, 2 (in storage)
RoadsideArchitecture.com

Copyright. All photos at this website are copyrighted and may only be used with my consent. This includes posting them at Facebook, Pinterest, blogs, other websites, personal use, etc.

Tips & Updates. If you have suggestions about places that I haven't covered, historical info, or updates about places/things that have been remodeled or removed, I'd love to hear from you: roadarch@outlook.com.