(hit "refresh" to get the most recent version of this page; click on photos for larger images)
Martha Roberson Hall
San Antonio, TX
apartment building
San Antonio, TX
Martha Roberson Hall was built in 1939. It was used as the residence for the former Medical and Surgical Memorial Hospital School of Nursing. [map]

This apartment building was probably built in the late 1930s or 1940s. [map]
Olmos Pharmacy
San Antonio, TX
2011:
2018:
The Olmos Pharmacy opened in 1938 as the Gilmore Pharmacy. It was renamed in 1944. The pharmacy closed in 2005. In 2007, it was converted into a bar known as the Olmos Bharmacy. By 2011, it was back to the name of Olmos Pharmacy and operating as a diner. It closed in 2017. In 2019, the building began housing a Volare Pizza. The sign remains and is lit at night. For more, see this website. [map]
Alamo Stadium
San Antonio, TX
Alamo Stadium was built in 1940 as a Works Progress Administration project. It was built as a football stadium and continues to be used by several high schools. For more, see this website. [map]
Freeman Coliseum
San Antonio, TX
The Freeman Coliseum was built from 1947-1949 as the Bexar County Coliseum. It was later named the Joe and Harry Freeman Coliseum. Around 2014 during major renovations, the name was shortened to the Freeman Coliseum and the neon sign on the front of the building was changed to reflect it. The building is used as a sports and concert venue. For more, see these websites: 1 and 2. [map]
Richter Bakeries
San Antonio, TX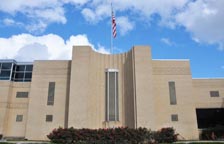 Richter Bakeries was established in 1882. In 1912, Richter bought a ButterKrust franchise. The company moved to this new building in 1941. Neon ButterKrust letters were installed on the roof. ButterKrust was bought out in 1994 by Flowers Industries. In 1997, this facility closed. It is now known as the Bakery Building. For more, see this website. [map]
W.T. Waggoner Estate
Vernon, TX
unidentified building
Waco, TX
former H-E-B
Waco, TX
W.T. Waggoner Estate was established in 1923. This building must have been built then or shortly thereafter. [map]

This unidentified building in Waco is probably from the 1920s or 1930s. Does anyone know its history? The building was vacant when this photo was taken in 2011 and was still vacant in 2014. [map]

This former H-E-B grocery store was built in 1949. The building was converted into the East Branch Library in 1976. [map]
Phipps Memorial
Waco, TX
Phipps Memorial was established in 1939. This building is either from then or from 1940. The neon letters on the front of the building originally read "Joe Phipps Memorial Co." Those letters had been removed by 2007. [map]
Grand Lodge of Texas
Waco, TX
The Grand Lodge of Texas was built for the Masons from 1947-1949. For more, see this website. [map]
Webster High School
Webster, TX

Webster High School was designed by R.G. Schneider and built in 1939. It now houses Clear View High School. The building is endangered. For more, see this website. [map]
RoadsideArchitecture.com

Copyright. All photos at this website are copyrighted and may only be used with my consent. This includes posting them at Facebook, Pinterest, blogs, other websites, personal use, etc.

Tips & Updates. If you have suggestions about places that I haven't covered, historical info, or updates about places/things that have been remodeled or removed, I'd love to hear from you: roadarch@outlook.com.