(hit "refresh" to get the most recent version of this page; click on photos for larger images)
Testudo
College Park, MD
The bronze statue of Testudo is installed at the McKeldin Library at the University of Maryland. Testudo the Terrapin is a Chesapeake Bay diamondback turtle and the university's mascot. The statue was created in 1933. Students rub his nose for good luck before exams. For more, see this website.
Galapagos Tortoise
Fort Worth, TX
Tortoise
Philadelphia, PA
This Galapagos Tortoise is installed in front of the Fort Worth Museum of Science & History. The sculpture was made from chrome car bumpers and welded steel by Jon G. Bedford in 1984.

This bronze Tortoise statue is located at the Please Touch Museum.
Loggerhead Snapping Turtle
Breaux Bridge, LA
Tortoise
Breaux Bridge, LA
These Loggerhead Snapping Turtle and Tortoise statues are located at the Atchafalaya Welcome Center.
Myrtle the Turtle
Joshua Tree, CA
Myrtle the Turtle represents a desert tortoise. The turtle was built around 1957 from plaster, wood, and steel. It was used in the local, annual Turtle Days parade. The statue was rebuilt in 1971 and is now installed in front of a shopping strip. [map]
Desert Tortoise
Bullhead City, AZ
This Desert Tortoise was commissioned by a local resident and displayed on his property. The statue is made of concrete reinforced with steel rods. He nicknamed the statue "Poki." When the owner moved to Montana, he donated the statue to Bullhead City. In 2014, it was installed in front of the Chamber of Commerce. For more, see this website. [map]
Turtle
Miami, FL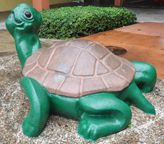 This Turtle is installed at the Northside Shopping Center which was built in 1960. This sculpture may be from then. [map]
These two Turtles were built as part of the Trail of Turtles civic art project in 2003. They were sold to various businesses to raise the funds to build the Turtle Grove Play Park at RiverFront Park. In 2021, these were the only two that I noticed. For more, see these websites: 1, 2, 3, 4, 5, and 6. [map], [map]
Turtle Playground
St. Louis, MO

The Turtle Playground was built in 1996 in Forest Park. The concrete turtles were created by Robert Cassilly. The sculptures include a snapping turtle, a soft-shelled turtle, a red-eared slider, a Mississippi map turtle, three box turtles, and a stinkpot. There is also a snake, a serpent, and three turtles hatching from eggs. [map]
RoadsideArchitecture.com

Copyright. All photos at this website are copyrighted and may only be used with my consent. This includes posting them at Facebook, Pinterest, blogs, other websites, personal use, etc.

Tips & Updates. If you have suggestions about places that I haven't covered, historical info, or updates about places/things that have been remodeled or removed, I'd love to hear from you: roadarch@outlook.com.