(hit "refresh" to get the most recent version of this page; click on photos for larger images)
Boston Lobster Feast
Orlando, FL
The Boston Lobster Feast had two 15-foot-long lobsters installed on the roofs of VW Beetles. They were built in 1998 by Scott Freeland of Freeland Studios in Orange City, FL. The photos above are from 2005. That Lobster Car is still parked at Boston Lobster Feast's Orlando location. In 2015, one of the cars was donated and moved to Bath, ME where it was displayed at the Marine Maritime Museum. By 2021, that car had been sold and its whereabouts is unknown. In 2019, the other Lobster Feast car was being repaired while a third one was being built. For more, see these websites: 1 and 2. [Orlando map]; [Kissimmee map]
Harpoon Larry's Oyster Bar [gone]
Hampton, VA
Lobster
Wildwood, NJ
Harpoon Larry's Oyster Bar featured this van with a lobster on the roof. This photo is from 2010. The restaurant has moved since then, and the lobster van is no longer on display.

The Lobster in Wildwood is installed on the roof of Schellenger's Restaurant. The restaurant opened in 1978 and this lobster is probably from then. [map]
Giant Lobster
Islamorada, FL
This 35-foot-long Lobster, aka Betsey, is the world's largest. The fiberglass statue originally stood next to Treasure Village, a retail/restaurant complex in Islamorada. The complex became a Montessori school and the Lobster was put in storage in 2008. It was listed on eBay for $250,000 but did not find a buyer. In 2009, the owner of the Rain Barrel Village in Islamorada bought the lobster and put it back on display. For more, see this website. [map]
Giant Lobster
Hancock, ME
Giant Lobster
Woolwich, ME
The Lobster in Hancock is 20 feet long and named "Wilbur", after the owner's last name. The statue resides at Ruth and Wimpy's Kitchen restaurant. [map]

The Lobster in Woolwich is on the property of the Taste of Maine Restaurant. He has been nicknamed "Mainer C. Lobster". Initially, the restaurant owner was not pleased with the creation which turned up in his parking lot one day. The artist's trailer had broken down and he left it there. But customers liked it and the owner bought the piece for $2,500. Taste of Maine painted the lobster red and added some buoys and lobster traps. By 2018, a giant lobster was also installed on the roof. [map]
This Crawfish is mounted on a pole in front of Notts Corner Seafood. Does anyone know how long this guy has been here? In 2021, only one claw was left. He must have been hit by a hurricane. They are rebuilding the statue in 2022. [map]
Crawfish
Alexandria, LA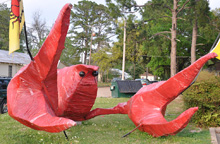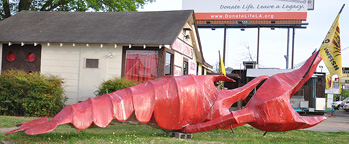 This Crawfish is installed next to Swamp Daddy's restaurant. He holds two flags and is covered with some sort of plastic material. The statue is installed on a trailer and used in Mardi Gras parades. For more, see this website. [map]
Crawfish
Lafayette, LA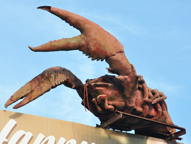 This Crawfish in Lafayette is mounted on top of a billboard next to I-10. It has been there advertising for the City since at least 2008. [map]
Crawfish
Breaux Bridge, LA
Shrimp
S. Pulaski Rd. & W. 24th St.
Chicago, IL
Shrimp
S. Pulaski Rd. & W. 54th St.
Chicago, IL
Shrimp
Grand River, OH
The Crawfish in Breaux Bridge is installed in front of the Crazy 'Bout Crawfish restaurant. It appears to be made of scrap metal and has been here since at least 2011. [map]

These Chicago Shrimp are perched on top of signs of at least three of "Las Islas Marias" restaurants. [W. 24th map], [W. 54th map]

The Shrimp in Grand River is located at Pickle Bill's Restaurant. [map]
Shrimp
Gibsonton, FL
Shrimp
Jensen Beach, FL
Shrimp
Nanticoke, PA
Shrimp
Chicago, IL
The Shrimp in Gibsonton has been located at Fisherman's One Stop since at least 2008. He has been missing his claws since at least then. [map]

The Shrimp in Jensen Beach is installed in front of Crawdaddy's restaurant. The statue has been there since at least 2011. [map]

The Shrimp in Nanticoke is installed at JJ Banko's Seafood restaurant. [map]

There are two Shrimp statues on the roof of the El Muelle Restaurant in Chicago. The restaurant there now is EL G-Fe but the Shrimps are still there. [map]
Crawfish
Houston, TX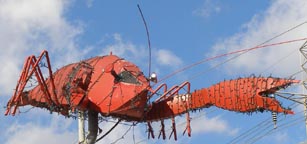 This Crawfish is installed on the roof of the Ragin Cajun restaurant. This is their original location which opened in 1974. I've been told that there was another location in Clear Lake with this same statue. The Christmas lights on this statue illuminate it at night. For more, see these websites: 1 and 2. [map]
Crawfish and Cowboy [gone]
Waller, TX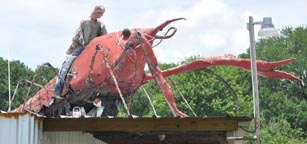 This Crawfish and Cowboy were installed on the roof of Swamp Shak restaurant around 2015. The crawfish is about 25 feet long. The building may only be used for fireworks sales now. These photos are from 2019. This statue was removed in 2020.
Shrimp
Galveston, TX
Dixie Crossroads
Titusville, FL
The Shrimp in Galveston is mounted on a pole in front of Nick's Kitchen and Beach Bar (previously Casey Gaido's). For more, see this website. [map]

The Dixie Crossroads seafood restaurant features many giant shrimp statues scattered around their property. The restaurant opened in 1983.
Shrimp
Big Pine Key, FL (now Marathon, FL)

2005: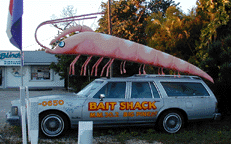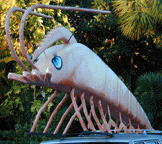 2020:

This Shrimp statue is 12 feet long and known as "Shrimpy." It was mounted on the roof of a station wagon which was parked in front of the Bait Shack in Big Pine Key, FL when the photos above were taken. The statue was repainted in 2006. By 2010, the statue was removed from the car and installed on the ground. By 2011, the statue had been moved to Marathon Bait & Tackle where it was installed on the roof of the building. [2009 far right photo thanks Bait Shack] [map]
More Shrimp, Prawn & Squid Statues:
RB's Seafood (Mount Pleasant, SC) [map]
Gaido's Restaurant Cowboy Shrimp: 1, 2, 3 (Houston, TX; later Richmond, TX) [gone]
Petersen's Restaurant (Wharton, TX) [vintage; gone]
Squid Bike Rack (Seattle, WA) [map]
Squid (Glovers Harbour, NL)
Prawn (Ballina, AU)
RoadsideArchitecture.com

Copyright. All photos at this website are copyrighted and may only be used with my consent. This includes posting them at Facebook, Pinterest, blogs, other websites, personal use, etc.

Tips & Updates. If you have suggestions about places that I haven't covered, historical info, or updates about places/things that have been remodeled or removed, I'd love to hear from you: roadarch@outlook.com.