(hit "refresh" to get the most recent version of this page; click on photos for larger images)
Side Street Seafood
Crisfield, MD
Crab Quarters [gone]
Middle River, MD
Chic's Seafood
Hagerstown, MD
Hadfield's Seafood
New Castle, DE
Side Street Seafood is a market and restaurant which specializes in crabs from the Chesapeake Bay. [map]

This Crab Quarters restaurant crab appeared to be identical to the one at Side Street Seafood. It was still there in 2018 but gone by 2019. The building now houses Alice's restaurant.

The Chic's Seafood and Hadfield's Seafood rooftop crabs look a little cruder than the previous two in this row. These two might have been produced by the same manufacturer. The New Castle restaurant now houses Capt. Zeak's Crab House & Seafood. [Hagerstown map]; [New Castle map]
Giant Crab
Martinsburg, WV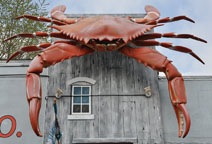 This Giant Crab is located at the Chesapeake Crab Company which opened in 2005. The building originally housed a gas station. [map]
Giant Crab
Tybee Island, GA
Crab
San Francisco, CA
Crab
Vancouver, BC
The Crab in Tybee Island is installed at the Crab Shack. The restaurant opened in 1987 on the site of a former fishing camp. [map]

This Crab topiary sculpture in San Francisco is installed at the foot of Pier 39. It was created by Jeff Brees and installed in 2003. For more, see this website. [map]

This Crab in Vancouver was installed in the fountain in front of the Museum of Vancouver in 1968. The 20-foot-tall, stainless-steel sculpture was created by George Norris. For more, see this website. [map]
Crab
Indian Rocks Beach, FL

2009:

2020:

The Crab in Indian Rocks Beach is installed on the roof of Crabby Bill's Seafood restaurant. The current paint job is from around 2018. [map]
Blue Claw Crab
Galveston, TX
2011:
2019:
This Blue Claw Crab is installed on the roof of Gaido's Seafood Restaurant. The statue has been there since at least 1962. It was installed on a wooden structure mounted on two poles at that time. Around 2016, the Crab was repainted from green to blue. There was a similar crab and shrimp at the Houston location. [map]
Giant Crab [gone]
Rockport, TX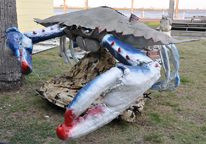 This Crab in Rockport was located at the Paradise House gift shop. These photos are from 2011. It was destroyed in 2017 during Hurricane Harvey.
There was a giant paper mache crab in town which was built around 1958. It was 18 feet wide and installed on the roof of the Del Mar Grill. The restaurant closed in 1965 and the crab was removed in 1976. The City bought the the crab for $200 and used it for parades. In 1966, it was then installed in Veterans Memorial Park. I don't know what happened to that crab. I believe there was a fiberglass crab here in the 1960s as well. In 2012, another giant Crab was installed in town. It was 25 feet long and built of aluminum. That Crab was destroyed by Hurricane Harvey in 2017 but there are plans to rebuild it. For more, see this website.
Perry's Fish House [gone]
South Burlington, VT

The Office [gone]
Hazlet, NJ
Perry's Fish House is still there but the giant crab is not. "Louie" was inflatable and was put on the roof during the annual crab festival in the late 1980s. In the early 1990s, local officials decided the crab violated the sign laws.

The Office had an inflatable lobster on its roof. He was removed during the winter. He was there in 2003 when this photo was taken. However, by 2008, the restaurant and lobster were gone.
Sole Proprietor
Worcester, MA
Giant Crab Seafood Restaurant
Myrtle Beach, SC
The Sole Proprietor restaurant features a giant inflatable crab on its roof. Buster the Crab measures 75 feet from claw to claw. He is only put on display in the summer during crab season. For more, see this website. [map]

The Giant Crab Seafood Restaurant was built in 2003. For more, see these websites: 1 and 2. [map]
Nick's Restaurant [gone]
West Swanzey, NH

Nick's Restaurant featured another giant inflatable crab on its roof. This crab and the one at Sole Proprietor shown above might be from the same manufacturer. Nick's closed in 2019 and the crab is gone.
Giant Crab
Crisfield, MD

The Crab in Crisfield stands in front of Crisfield High School. The crab is the school's mascot and their teams are known as the Crisfield Crabbers. [map]
Horseshoe Crab
Blanchester, OH (now Hillsboro, OH)

This Horseshoe Crab, aka Crabby, is 28 feet wide and 68 feet long. It was originally commissioned for the Baltimore Maritime Museum in Baltimore, MD. The museum was never built and the sculpture was purchased by the Creation Museum in Hebron, KY. In 2006, the Crab was donated to the Freedom Worship Baptist Church in Blanchester which installed it here in a Biblical scripture garden. These photos are from 2009. Around 2015, the Crab was moved to Old Days Vintage Campers in Hillsboro, OH. By 2021, the Crab had been painted an olive green. For more, see these websites: 1 and 2. [map]
More Giant Crabs:
Panacea, FL
Easton, MD
Ocean City, MD
Portland, OR [gone]
Myrtle Beach, SC
North Myrtle Beach, SC
Surfside Beach, SC [map]
Queensland, Australia
Kyoto, Japan
Osaka, Japan
RoadsideArchitecture.com

Copyright. All photos at this website are copyrighted and may only be used with my consent. This includes posting them at Facebook, Pinterest, blogs, other websites, personal use, etc.

Tips & Updates. If you have suggestions about places that I haven't covered, historical info, or updates about places/things that have been remodeled or removed, I'd love to hear from you: roadarch@outlook.com.