(hit "refresh" to get the most recent version of this page; click on photos for larger images)
The composition of my pack of three changed in late 2005. In August, Sputnik joined us bringing new energy and humor to the mix. In November, Spud (a Chihuahua) lost his battle with old age.
Spud, Gripper & Fix
Goofy Golf
Panama City Beach, FL
did you say "BISCUITS"?!
Giant Uncle Sam
Ottawa Lake, MI
Fix & Gripper
sight-seeing & napping in our home away from home
rental SUV
Buffalo, NY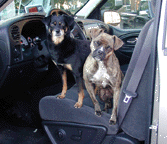 barking at cows
driving on the beach
Daytona Beach, FL
tired travelers
Fix & Spud
Spud & Gripper
in our lovely neighborhood

Bellows Falls, VT
Lake Ontario
Rochester, NY
a ball at the beach
Salisbury Beach, MA
trading post
Charlemont, MA
Mr. Bill's Drive-in
Glens Falls, NY
gift shop
Panama City Beach, FL
Swampy the Gator
Christmas, FL
Shell Factory
North Fort Myers, FL
Giant Orange
Melbourne, FL
Southernmost Point
Key West, FL


Why buy or breed when you can RESCUE?!