(hit "refresh" to get the most recent version of this page; click on photos for larger images)
former KJ's Big Tepee [gone]
Flora, MS
KJ's Big Tepee was previously known as Big D's BBQ. Big D's opened in the 1980s and the teepee was added later. It has been there since at least 2008. The teepee is made of monolithic dome type material. I believe KJ's Big Tepee closed in 2012. The teepee was still vacant in 2016. Then, it was demolished in 2017.
This concrete Teepee was built around 1944 by Conrad Peterson. It was a combination cafe and residence which operated until the early 1960s. After that, it housed a thrift store. The building appears to be vacant now. [map]
Kramer's Wigwam
Browning, MT
Kramer's Wigwam was built by Robert Kramer as a gas station and cafe in 1934. There was an apartment on the second floor. It was a Conoco station and later a Standard Oil station. The business was later named the Wigwam Cafe. It operated until the 1960s. In 1973, the building was moved during highway expansion. In 1988, it reopened as an art gallery. In 1998, it began housing Big Lodge Espresso. The building has been vacant since at least 2015. For more, see these websites: 1, 2 and 3. [map]
Teepee
Separ, NM

The Teepee in Separ is located at Bowlin's Continental Divide Historical Trading Post which is a gas station and convenience/souvenir store. This photo is from 2012. The teepee was repainted around 2020. [map]
The Wigwams
Jasper, NY
The Wigwams now houses the Jasper Historical Museum. At one time, there were Gulf gas pumps in front of the building. Evidently, it housed a restaurant, museum, and gas station originally. It was probably built in the 1920s or 1930s. For more, see this website. [map]
El Tipi Quick Stop
Shattuck, OK
The El Tipi Quick Stop, a gas station and convenience store, was being built when these photos were taken in 2011. [map]
Shell station and Cherokee Trading PostCalumet, OK
2011: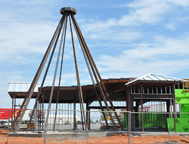 2012:
The Cherokee Trading Post opened in 1958. The multiple teepee topped building was probably built then. The glass teepee building at the Shell station next door was being built in 2011. It houses the C-W-Y Restaurant and the convenience store for the gas station. [map]
TePee Tim's BBQ [gone]
New Stanton, PA
TePee Tim's BBQ had a 40-foot-tall canvas structure. It was built in 2005 and used as a restaurant. Smoke billowing from the top was visible from the nearby interstate. By 2010, it was gone. For more, see this website.
The Wigwam [gone]
Glen Allen, VA
Teepee Drive-In [gone]
Grand Coulee, WA
The Wigwam was built in the early 1930s as the Wigwam Auto Court. There was a Gulf gas station in front of the complex. This log cabin restaurant building was added later. The teepee structure was added to the entrance sometime in the 1940s or 1950s. It was decorated with neon stars, thunderbirds, half-moons, and men on horseback. The restaurant closed in 2002 and the property was used for a flea market after that. In 2008, plans were announced to demolish the building and replace it with a shopping center known as Wigwam Crossing. However, as of 2012, this building was still there. The teepee was removed sometime between 2012 and 2015.

The Teepee Drive-In featured a rooftop teepee. An opening in the back revealed some wires indicating that this fiberglass structure might have been lit at night. By 2023, the teepee was gone but the drive-in was still operating. The bulb arrow had been restored and there was a new text panel. [map]
Powers Pancake (formerly Twin T-Ps) [gone]
Seattle, WA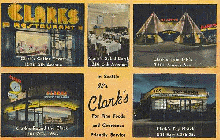 | | |
| --- | --- |
| | |
The Twin T-Ps Restaurant opened in 1937 (another source says 1932, while another account says it was prefabricated in California and trucked to this site in 1934). The main dining room was in the southern teepee and had a huge open-pit fireplace covered with seashells and an American Indian inspired decor. The teepees were 42 feet tall with octagonal bases. In 1942, the restaurant was sold to Walter Clark who hired his war-time buddy as cook. The cook, later known as Colonel Sanders, supposedly worked on his fried chicken recipe here before starting his own fast food empire.

Clark had three other restaurants in Seattle. He renamed the T-Ps as "Powers Pancake House" and added 21 other locations (none of them with teepees) between 1959 and 1967. The original restaurant was renamed Twin TeePees at some point. Two fires (one in 1997 and a more serious one in 2000) led to its eventual demise. The landlord said the place was "too complex and expensive to repair" and it was bulldozed in 2001. For more info and photos, see these websites: 1 and 2.
Red Man Supper Club
Land O' Lakes, WI
The Red Man Supper Club was built in 1960. The teepee serves as a dining room with tables arranged around a central fireplace. The building now houses the Asana Suka restaurant. The statue is gone. [map]
Wigwam Service Station [gone]
Weyauwega, WI
Nothing is known about the Wigwam Service Station. It was in use as a Texaco station at the time of the second photo above. The ground floor may have housed a service bay and office or a café like those at Kramer's and Geronimo's described above. The upper floor may have been used as a residence for the station attendant.
More Teepee Gas Stations & Restaurants:
Tee Pee Barbecue (Long Beach, CA) [gone]
The Tee Pee Restaurant (Indianapolis, IN) [gone]
The Wigwam: 1, 2, 3 (Adrian, MI) [gone]
Legs Inn (Cross Village, MI)
Tee Pee Filling Station: 1, 2 (Corwin Hot Springs, MT) [vintage; gone]
The Tee Pee Drive-in: 1, 2 (Georgetown, SC) [vintage; gone]
RoadsideArchitecture.com

Copyright. All photos at this website are copyrighted and may only be used with my consent. This includes posting them at Facebook, Pinterest, blogs, other websites, personal use, etc.

Tips & Updates. If you have suggestions about places that I haven't covered, historical info, or updates about places/things that have been remodeled or removed, I'd love to hear from you: roadarch@outlook.com.