(hit "refresh" to get the most recent version of this page; click on photos for larger images)
Frostop
Baton Rouge, LA

2006 and 2010:
This Frostop features a classic pole sign as well as a more modern mug incorporated into their canopy. This location opened in the 1950s. In the 1990s, the mug's neon was completely restored and it rotated. In 2004, the mug was restored but by then the neon was gone and the sign was stationary. The mug was repainted again around 2009. For more, see this website. [map]
Frostop [gone]
Raceland, LA
Frostop on the Bayou [gone]
Thibodaux, LA
Frostop
Metairie, LA
The Frostop in Raceland featured a pole sign mug with missing neon. This photo is from 2006. The store has since closed and the mug is gone.

The Frostop in Thibodaux featured a rooftop mug when these photos were taken in 2006. Around 2007, they moved to a former Popeye's building in town. The mug was displayed on a concrete base on the ground. The location was still there in 2016. By 2018, the mug and building were gone. For more, see this website.

The Frostop building in Metairie originally housed a Pizza Hut. It became a Frostop around 2011 and this modern neon mug sign was installed then. For more, see this website. [map]
Frostop
Jefferson, LA (now Destrehan, LA)
This Frostop opened in 1954 with a revolving rooftop mug. It is believed that this was the first giant Frostop mug built. The Jefferson location was also the first Frostop in Louisiana. It was owned by T. W. Ganus who owned the restaurant. It is believed that he designed the mug and patented it. The mug appeared to have been recently repainted in 2006. In 2007, this location moved to a strip mall in Destrehan, LA. Due to sign regulations, they were not allowed to display the giant mug at the new location. It was lying behind the building for a few years. The owner tried to sell it on-line for about nine months and gave up. He donated it to a prop shop in Slidell, LA. The modern mug above the store's entrance was installed around 2015. For more, see these websites: 1 and 2. [map]
This Frostop opened in 1958. The mug was originally installed on the roof. It was moved to a pole sometime in the 1960s. Neon was added to the mug and the building at that point. A dining room was added in 1962. The mug was first restored in 1987. A complete restoration took place in 2007. The mug was removed (third photo top row) and completely rebuilt for nearly $20,000. The barrel of the mug was replaced with rust-proof aluminum and painted like the original. The handle and foam piece from the old mug were used. The revolving mug is lit at night when the restaurant is open.

Maintaining these neon mugs isn't cheap. This location has a $1,200 per year contract to keep the neon and rotation working properly. Their building was remodeled in 1981 and 1996. The original brown and cream tile was replaced with wood, siding, and now has cream tile. Their root beer is still homemade and served in frozen mugs. A vintage Frostop barrel is on display in the dining room. In 2021, the mug was knocked off the pole during Hurricane Ida. It will be restored and reinstalled in 2022. For more, see these websites: 1, 2, 3, and 4. [top row right photo, second row right photo thanks Terry Toler] [map]
Ted's Frostop
New Orleans, LA
1998: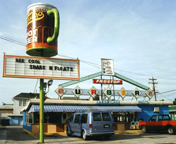 Ted's Frostop opened in 1955. Ted Sternberg owned several Frostops in New Orleans as well as three stands in Little Rock. This mug was originally installed on a pole (see top photo) and did not have neon. The building's rooftop signage was not damaged during Hurricane Katrina in 2005. However, the mug was knocked off the pole and found upside-down. The owner decided to move mug back a bit, install it upside-down on a base and use it as the location's logo. In 2007, the mug was restored - still in the upside down position. In 2011, a new owner had the mug restored, fixing a crunched corner from Katrina. It was returned it to the pole in the upright position. Neon was added and the mug is spinning again. Although the mug had not had neon for many years, there were holes indicating that it had been there at one time. For more, see these websites: 1, 2, 3, and 4. [1998 photo thanks Rich Kummerlowe] [map]
Frostop [gone]
New Orleans, LA
This Frostop was also known as Charlie's Frost Top. It was located in the Algiers neighborhood and had similar signs to Ted's Frostop described above. I don't know of any other Frostops built with signs like these on the roof. The Ted's Frostop mug might have originally been installed over their rooftop sign like this one. This Algiers location had been closed and boarded up for a number of years. It was demolished in 2013. For more, see this website.
RoadsideArchitecture.com

Copyright. All photos at this website are copyrighted and may only be used with my consent. This includes posting them at Facebook, Pinterest, blogs, other websites, personal use, etc.

Tips & Updates. If you have suggestions about places that I haven't covered, historical info, or updates about places/things that have been remodeled or removed, I'd love to hear from you: roadarch@outlook.com.