(hit "refresh" to get the most recent version of this page; click on photos for larger images)
Tahitian Village Apartments
Reseda, CA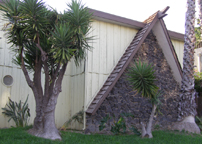 The Tahitian Village Apartments were built in 1964. [map]
former Bahooka
Rosemead, CA
The Bahooka restaurant opened in 1967 in West Covina. This was the second location, built in 1976. The two restaurants were consolidated in 1980. The lush interior features a shipwreck theme with bamboo, tortoise shells, nautical artifacts, and over 100 aquariums. The restaurant closed in 2013. In 2015, the place reopened as the Moonlight Restaurant & Bar. It closed in 2016. In 2017, the restaurant reopened as the Cinnabar. By 2019, it was housing the King's Table. By 2021, the building was vacant again. For more, see these websites: 1, 2, 3, and 4. [map]
former Trader Island
San Bernardino, CA
2008:
2013:
Trader Island opened sometime in the mid-1960s. In 1970, it became Edwin Tan's Chinese Gardens. In 1975, it became the Imperial Palace Inn. Then in the mid-1980s, it became the Mandarin Garden. In 2008, the building housed the Scorpions Sports Bar & Grill. By 2013, the building was vacant. The exterior's hanging lamps and tiki details on the exposed beams have been removed. In 2016, fencing was installed around the building. The building remains vacant. For more, see this website. [map]
Kona Kai Apartments
San Gabriel, CA
The Kona Kai Apartments were built in 1962. The complex features lots of original tiki details. [map]
Kahlua Apartments
San Gabriel, CA
Islander Apartments
Santa Ana, CA
`
The Islander Apartments were built in 1962. [map]
apartment building
Santa Monica, CA
Chef's Hat
South El Monte, CA
This apartment building was with the totem detail was built in 1964. [map]

The Chef's Hat restaurant was probably built in the 1960s. [map]
RoadsideArchitecture.com

Copyright. All photos at this website are copyrighted and may only be used with my consent. This includes posting them at Facebook, Pinterest, blogs, other websites, personal use, etc.

Tips & Updates. If you have suggestions about places that I haven't covered, historical info, or updates about places/things that have been remodeled or removed, I'd love to hear from you: roadarch@outlook.com.