(hit "refresh" to get the most recent version of this page; click on photos for larger images)
San Juan Theatre
Blanding, UT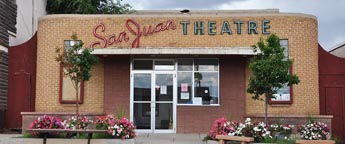 The San Juan Theatre was built in 1946. It is still operating. For more, see this website. [map]
Firmage Theatre
Beaver, UT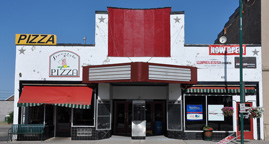 The Firmage Theatre opened in 1937. Around 1983, the theatre was renamed The Cinema. In the 1990s, it was known as The Showhouse and the Beaver Cinema. In 2008, it was renamed the Main Street Theatre. It was still open in 2009 but closed by 2014 when this photo was taken. For more, see this website. [map]
Wayne Theatre
Bicknell, UT
The Wayne Theatre was built in 1947 as the Ellett Theatre. In 1967, the name was changed to the Wayne Theatre. This movie theatre is still in operation. Around 2016, it was renamed the Bicknell Theater. For more, see this website. [map]
Capitol Theatre
Brigham City, UT
Cedar Theatre
Cedar City, UT
Towne Theatre
Ephraim, UT
The Capitol Theatre opened as the Elberta Theatre in 1917. It was renamed the Capitol Theatre in 1927. The theatre remains in operation. For more, see this website. [map]

The Cedar Theatre was built as the Thorley Theatre in 1913. In 1939, it was renamed the Avalon Theatre. By the 1950s, it had been renamed the Cedar Theatre. It closed in 2005 and then reopened in 2012. This photo is from 2014. The theatre closed again in 2015. For more, see this website. [map]

The Towne Theatre was built in 1923. It was still open in 2019 but appears to be vacant now. For more, see this website. [map]
Avalon Theatre
Fillmore, UT
Main Theatre
Garland, UT
The Avalon Theatre opened in 1926. This photo is from 2014. The theatre closed around 2015. For more, see these websites: 1 and 2. [map]

The Main Theatre opened in 1946 and closed in 1985. It has been vacant since then. For more, see this website. [map]
Casino Star Theatre
Gunnison, UT
The Casino Star Theatre opened in 1912. It was closed briefly in the 1970s. The theatre remains operating today, showing films and featuring live performances. The building is listed on the National Register of Historic Places. For more, see these websites: 1, 2, and 3. [map]
Avon Theatre
Heber City, UT

The Avon Theatre opened in 1948. Around 2000, it was known as the Reel Theatre but it then reopened as the Avon Theatre in 2006. For more, see these websites: 1 and 2. [map]
Strand Theatre
Helper, UT
2014:
2022:
The Strand Theatre opened in 1922 and closed around 1955. The sign was restored in 2015 but the theatre remains closed. For more, see this website. [map]
Kamas Theatre
Kamas, UT
Crescent Moon Theatre
Kanab, UT
The Kamas Theatre was built in 1942. The theatre has been opened and closed a few times in the 2000s. It was open when these photos were taken in 2014. However, it closed later that year. For more, see this website. [map]

The Crescent Moon Theatre was built in 2002 to look like an old theatre. For more, see this website. [map]
The Utah Theatre was built around 1924. In 2005, the theatre became primarily a live performance space. It closed in 2007 for renovations but has reopened. For more, see these websites: 1 and 2. [map]
Empress Theatre
Magna, UT
The Empress Theatre was built in 1916 as a burlesque theatre. It later switched to films. The theatre closed in 1955 and was later devastated by a fire. After many years of restoration, it reopened in 2006 as a live performance venue. For more, see this website. [map]
RoadsideArchitecture.com

Copyright. All photos at this website are copyrighted and may only be used with my consent. This includes posting them at Facebook, Pinterest, blogs, other websites, personal use, etc.

Tips & Updates. If you have suggestions about places that I haven't covered, historical info, or updates about places/things that have been remodeled or removed, I'd love to hear from you: roadarch@outlook.com.