(hit "refresh" to get the most recent version of this page; click on photos for larger images)
Texas Theatre
Sealy, TX
Palace Theatre
Seguin, TX
The Texas Theatre was built in 1928. It is now used for live performances and other activities. For more, see this website. [map]

The Palace Theatre was built in 1947. The theatre has been twinned but it is still in operation. For more, see this website. [map]
State Theatre
Sierra Blanca, TX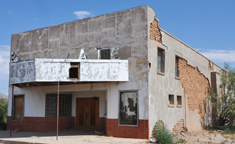 The State Theatre was built in 1952. It has been closed since the mid-1980s. [map]
The Texas Theatre was designed by W. Scott Dunne and opened in 1931. The theatre reopened in 2011 after an extensive renovation. It is now used for live performances. For more, see these websites: 1 and 2. [map]
Rialto Theatre
Sinton, TX
Ritz Theatre
Snyder, TX
The Rialto Theatre opened in 1945. The building has been vacant for many years. For more, see this website. [map]

The Ritz Theatre was originally known as the Cozy Theater. It became the Ritz in 1921. The theatre closed in 1970. I don't know when the exterior was remodeled. The theatre was restored around 1992. It now offers live performances as the Ritz Community Theatre. For more, see these websites: 1 and 2. [map]
The Palace Theatre opened in 1946. The sign, seats and equipment were originally installed in Graham, TX. The theatre has been closed for many years. However, in recent years, live performances have been featured as fundraisers for the theatre's restoration. For more, see this website. [map]
Grand Theatre
Stamford, TX
The Grand Theatre opened sometime before 1926 as the Alcove Theatre. It was renamed the Grand Theatre in 1937. The current facade was installed in 1950. The sign was produced by Martin & Company of Sweetwater, TX. The theatre had been closed since 2011. Renovations began in 2016 and the theatre reopened in 2019. For more, see this website. [map]
Texas Theatre
Stanton, TX
The Texas Theatre was built in 1949. It closed in the 1960s. In 1988, the building was converted into a residence. For more, see this website. [map]
Texas Theatre
Sweetwater, TX
The Texas Theatre opened in 1935. It has been closed since 2005. In 2010, the theatre was purchased and renovation began. These photos are from 2017. For more, see this website. [map]
Rose Theatre
Tahoka, TX
Howard Theatre
Taylor, TX
The Rose Theatre has been closed for decades. I don't know when it was built but the marquee sign was added in 1948. For more, see this website. [map]

The Howard Theatre opened around 1925. In 1950, it moved across the street to this building which previously housed the Rita Theatre. The sign was moved as well. The Rita Theatre had been remodeled to its present look in 1935. For more, see these websites: 1 and 2. [map]
Arcadia Theatre
Temple, TX
Lyric Theatre
Terrell, TX
Iris Theatre
Terrell, TX
The Arcadia Theatre was built in 1928. In closed in 1978. It later suffered a roof collapse which resulted in damage to the interior. The roof was replaced in 2003. A new sign was added by 2007. The building remains vacant. For more, see these websites: 1 and 2. [map]

The Lyric Theatre opened as the Lyric Opera House in the 1910s. The interior was gutted decades ago and the building housed Terrell Office Products for many years. In 2015, the mural was painted on the facade and the sign was added. There was originally a much larger blade sign on the building. For more, see this website. [map]

The Iris Theatre opened in 1925 and closed in 2001. The marquee was removed but the blade sign remains. The front part of the building houses Books and Crannies. The back of the building is used for movies and special events. For more, see this website. [map]
Saenger Theatre
Texarkana, TX
The Saenger Theatre was built in 1924 by the Saenger Amusement Company. The theatre closed in 1977. It reopened in 1980 after being restored as the Perot Theatre. The theatre is owned by the City of Texarkana and is used for live performances. The building is listed on the National Register of Historic Places. For more, see this website. [map]
Rialto Theatre
Three Rivers, TX
Gem Theatre
Turkey, TX
The Rialto Theatre was designed by Jack Corgan and opened in 1948. It is still operating. For more, see this website. [map]

The Gem Theatre opened in 1928. I believe it is only used for live performances now. For more, see this website. [map]
Tyler Theatre
Tyler, TX

2011:
The Tyler Theatre opened in 1940. The theatre has been closed since at least the 1980s and the interior has been gutted. By 2013, the marquee letters had been removed. By 2016, the remaining ground floor former box office and facade had been removed. The running neon arrow along the side of the building is also gone. However, the vertical sign is lit at night. For more, see these websites: 1 and 2. [map]
Liberty Theatre
Tyler, TX
2011:
2018:
The Liberty Theatre opened in 1930. The theatre was already closed when the City bought it in 2008. It reopened in 2011 as Liberty Hall which features live performances and classic films. For more, see this website. [map]
The Plaza Theatre was built in 1953. It closed around 2005 and then reopened in 2007 as the Vernon Plaza Theatre. For more, see these websites: 1 and 2. [map]
RoadsideArchitecture.com

Copyright. All photos at this website are copyrighted and may only be used with my consent. This includes posting them at Facebook, Pinterest, blogs, other websites, personal use, etc.

Tips & Updates. If you have suggestions about places that I haven't covered, historical info, or updates about places/things that have been remodeled or removed, I'd love to hear from you: roadarch@outlook.com.