(hit "refresh" to get the most recent version of this page; click on photos for larger images)
Colonial Theatre
Canaan, CT
Community Theatre
Fairfield, CT
The Colonial Theatre opened in 1923 and closed in 1997. By 2005, the renovated theatre had reopened. For more, see these websites: 1 and 2. [map]

The Community Theatre was designed by Oreste Zircoli and opened as a vaudeville house in 1920. It became a movie house in 1929. In 1933, the interior was extensively renovated and this marquee was installed. This photo is from 2005. The theatre closed in 2011. In 2019, renovation work began. In 2020, it reopened as the Sacred Heart University Community Theatre. A new marquee was installed. For more, see these websites: 1 and 2. [photo thanks DinerFan] [map]
Webster Theatre
Hartford, CT
Garde Theatre
New London, CT
The Webster Theatre opened as a movie theatre in 1936. Pauline W. Shulman designed the Art Deco theatre which had seating for over 900 people. The Webster fell into disrepair over the years. In 1996, it was transformed into the rock club that it is today. The original screen is still intact. For more, see this website. [map]

The Garde Theatre was designed by Arland Johnson and opened in 1926. The theatre offered vaudeville as well as films. In 1985, it became the Garde Arts Center. The Moroccan-style interior was preserved and restored during renovation in the late 1990s. The curved wall and round marquee were added at this time. For more, see these websites: 1 and 2. [map]
Warner Theatre
Torrington, CT
This Warner Theatre also opened in 1931. It was designed by Thomas W. Lamb for Warner Brothers. It is one of the five Warner's palaces that survive. The Warner went bankrupt and closed in 1981. It was scheduled for demolition when a local arts group stepped in to help save it. The theatre received a $6.5 million restoration and reopened in 2002. It now features Broadway shows, concerts and other live performances. The Warner has a 3-story lobby and auditorium with incredible Art Deco detail. There are murals, tapestries, chandeliers, and velvet seats. For more, see these websites: 1 and 2. [map]
former Elm Theater
West Hartford, CT
2003:
2006:
The Elm Theater was built in 1947 in the Streamline Moderne style. It closed in 2002. In 2005, the property was sold to Walgreens which remodeled the building and removed the sign. For more, see these websites: 1, 2, and 3. [map]
Forest Theatre [gone]
West Haven, CT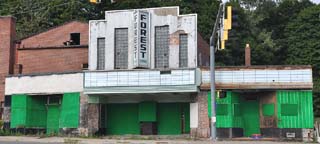 The Forest Theatre opened in 1939. It was remodeled in 1965 after a fire. The theatre has been closed since 2004. This photo is from 2009. The theatre was demolished in 2011. For more, see this website.
RoadsideArchitecture.com

Copyright. All photos at this website are copyrighted and may only be used with my consent. This includes posting them at Facebook, Pinterest, blogs, other websites, personal use, etc.

Tips & Updates. If you have suggestions about places that I haven't covered, historical info, or updates about places/things that have been remodeled or removed, I'd love to hear from you: roadarch@outlook.com.