(hit "refresh" to get the most recent version of this page; click on photos for larger images)
Ritz Theatre
Los Angeles, CA
Vogue Theatre
Los Angeles, CA
The Ritz Theatre opened in 1939 as the News Views Theatre, showing newsreels. It later became the Newsreel Theatre. In the mid-1970s, it became the Pussycat Theatre. When it closed in 1989, it was renamed the Ritz Theatre. It closed in 1991 and the building housed a church. This photo is from 2013. In 2016, the theatre was adapted for Cre8 Crepes and FilmOn.TV Holograms USA. The building was vacant in 2020. For more, see this website. [map]

The Vogue Theatre was designed by S. Charles Lee and opened in 1935. The theatre was remodeled in 1959. This sputnik sign is probably from then. It was definitely there by 1965. The theatre closed around 1995. In 2001, the interior was gutted. Since 2009, the building has housed the Supperclub and features live performances. For more, see this website. [map]
Vine Theatre
Los Angeles, CA
Fox Stadium Theatre
Los Angeles, CA
The Vine Theatre was designed by S. Charles Lee. It opened in 1937 as the Admiral Theatre. In 1969, it became the Vine Theatre. It closed in 2007 and was then used mainly for a church. Since 2009, it has been a rental facility which features occasional movies. For more, see these websites: 1 and 2. [map]

The Fox Stadium Theatre was designed by the Boller Brothers and opened in 1931. It closed in 1960. The building has housed the B'nai David Congregation synagogue since 1964. For more, see this website. [map]
El Rey Theatre
Los Angeles, CA
The El Rey Theatre was designed by Clifford Balch and opened in 1936. In 1994, it was converted into a live music venue. The ticket booth is a replica of the original. For more, see these websites: 1, 2, and 3. [map]
Bruin Theatre
Los Angeles, CA
The Bruin Theatre was designed by S. Charles Lee and opened in 1937. It is still in operation as a single screen. For more, see these websites: 1 and 2. [map]
Fox Village Theater
Los Angeles, CA
The Fox Village Theater opened in 1931. It is still operating as a single screen. It is now known as the Regency Village Theatre. For more, see these websites: 1, 2, and 3. [map]
Nuart Theatre
Los Angeles, CA

2013:
2019: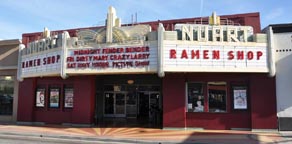 The Nuart Theatre opened in 1930. The current marquee was installed in 1939. The theatre is still operating as a movie house. For more, see this website. [map]
Crest Theatre
Los Angeles, CA
The Crest Theatre opened in 1940 as the Westwood Theatre. It featured live performances. In 1941, it became the UCLAN Theatre. The name is a reference to nearby UCLA, the University of California at Los Angeles. In the mid-1950s, it became the Crest Theatre. In 1983, it became the Metro Theatre. In 1988, it became the Crest Theatre again. In 2011, it became the Bigfoot Crest Theatre. It closed that same year. The theatre reopened in 2013 just after these photos were taken. It closed again around 2017. For more, see these websites: 1, 2, 3, and 4. [map]
Cinerama Dome
Los Angeles, CA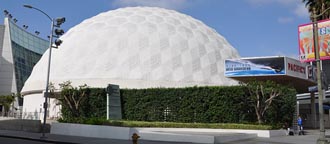 The Cinerama Dome was designed by Welton Becket and Associates and opened in 1963. It is the only concrete geodesic dome in the world. It is 70 feet tall. Inside, there is an 86 foot wide curved screen that was created for the Cinerama format. The building has been declared a Los Angeles Historic-Cultural Monument. For more, see these websites: 1, 2, 3, and 4. [map]
RoadsideArchitecture.com

Copyright. All photos at this website are copyrighted and may only be used with my consent. This includes posting them at Facebook, Pinterest, blogs, other websites, personal use, etc.

Tips & Updates. If you have suggestions about places that I haven't covered, historical info, or updates about places/things that have been remodeled or removed, I'd love to hear from you: roadarch@outlook.com.