(hit "refresh" to get the most recent version of this page; click on photos for larger images)
Chaplins Chevrolet
North Bend, WA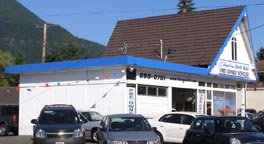 Chaplins Chevrolet Quick Lube Center
North Bend, WA
2008:
2015:
Chaplins Chevrolet has apparently repurposed a couple of buildings downtown (top row). Does anyone know more about these buildings? The Quick Lube Center was originally a Texaco Matawan gas station. [map]; [Quick Lube Center map]
Dick Lewis Pontiac-Cadillac [gone]
Olympia, WA
The Dick Lewis Pontiac-Cadillac showroom was designed by Bennett & Johnson and built in 1964. When these photos were taken in 2015, the building was vacant. In 2016, it was demolished.
former Mell Chevrolet
Shelton, WA

This Mell Chevrolet building has been here since at least 1955. The building was vacant when this photo was taken in 2015. By 2019, the building had been painted dark blue and it was housing Mason County Search and Rescue. [map]
Mueller-Harkins Buick
Tacoma, WA
The Mueller-Harkins Buick dealership opened here in 1948. Each of the rounded portions of the buildings have turntables which would spin the cars in a circle (see third photo in second row above). The building now houses a vintage car dealership. For more, see these websites: 1, 2, and 3. [map]
Classiness Automotive Sales
Tacoma, WA

The Classiness Automotive Sales building was built in 1958. It previously housed the Baydo Auto Outlet and the Parkland Auto Center. This building may have originally housed a new car dealership, supermarket, or department store. By 2018, the building was housing West Coast Auto Center. [map]
Manley Thompson Ford
Tacoma, WA
The Manley Thompson Ford dealership was designed by E. J. Breseman and built in 1918. When the building was remodeled in 1931, it was combined with the adjacent building and became part of the Crescent Ballroom. [map]
former Fred Becker Motors
Walla Walla, WA
This building housed Fred Becker Motors from the late 1940s until 1958, selling Dodge and Plymouth automobiles. I believe there were other dealership buildings located on the site earlier. From around 1959-1961, the building housed Moore Buick. The building now houses the Doubleback Winery. For more, see these websites: 1 and 2. [map]
former Hahn Motor Company
Yakima, WA
2008:
2015:
The Hahn Motor Company supposedly opened here in 1984. I don't know what dealership was here before that. Since around 2014, this building has housed Better All Auto Sales even though the Hahn Motor Co. letters were still there. By 2019, the building was also housing Audio Solutions & Tinting and the letters were gone. [map]
RoadsideArchitecture.com

Copyright. All photos at this website are copyrighted and may only be used with my consent. This includes posting them at Facebook, Pinterest, blogs, other websites, personal use, etc.

Tips & Updates. If you have suggestions about places that I haven't covered, historical info, or updates about places/things that have been remodeled or removed, I'd love to hear from you: roadarch@outlook.com.