(hit "refresh" to get the most recent version of this page; click on photos for larger images)
former Etheridge Lincoln
Chattanooga, TN
The former Etheridge Lincoln was built in 1925 in a Spanish and Classical style. The terracotta medallions have "L"s for Lincoln. Later, this building was used by Newton Chevrolet which are still in business at another location. The building is listed on the National Register of Historic Places. It now houses the Chattanooga Lifestyle Center, a fitness and health care center. [map]
Ford of Lexington [gone]
Lexington, TN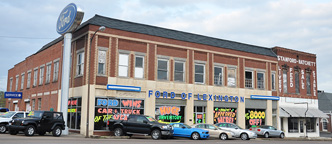 I believe the Ford of Lexington dealership opened here in 1934. It was previously or originally known as Holmes Ford. The dealership moved in 2013 and the building was still vacant in 2015. It was demolished in 2016.
Reeder Chevrolet [gone]
Knoxville, TN
Reeder Chevrolet opened in 1969. Supposedly, the round design of this building was based on another Chevrolet dealership that the owner saw in Louisiana. The interior was in original condition with terrazzo floors and dramatic fluorescent tube lighting when these photos were taken in 2008 and 2011. By 2014, the building's exterior had been dramatically remodeled. I believe the dome and interior have been preserved. However, the exterior is now covered with Chevrolet's hideous silver panels and that obnoxious giant blue entrance. [map]
Wright's Motor Co.
Chattanooga, TN

The Wright's Motor Co. used car dealership building was built for Burcham Motors around 1961. Burcham sold Peugeot and Renault imported cars as well as used cars. The company later sold Mercedes-Benz. [map]
RoadsideArchitecture.com

Copyright. All photos at this website are copyrighted and may only be used with my consent. This includes posting them at Facebook, Pinterest, blogs, other websites, personal use, etc.

Tips & Updates. If you have suggestions about places that I haven't covered, historical info, or updates about places/things that have been remodeled or removed, I'd love to hear from you: roadarch@outlook.com.