(hit "refresh" to get the most recent version of this page; click on photos for larger images)
John M. Moore Building
Okmulgee, OK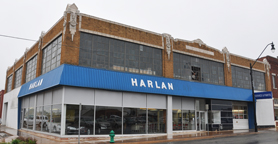 The John M. Moore Building was built in 1922 as a car dealership and garage. It now houses Fred Harlan Motor Company. For more, see this website. [map]
former Marshall Chevrolet
El Reno, OK

2011:
2019:
The Marshall Chevrolet building was built in 1929. The building was housing Appliances Etc. by 2008. By 2013, the building was occupied by the El Reno Tribune newspaper. [map]
Bristow Motor Company
Bristow, OK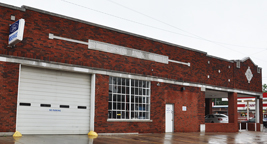 The Bristow Motor Company was built in 1923. The building is listed on the National Register of Historic Places. It originally served as the Bolin Ford showroom and service center. Bolin Ford is now located just up the block. Model T Ford wheel designs appear on the four corners of the Bristow Motor Co. building. [map]
Jardot Building
Stillwater, OK
The Jardot Building was an auto repair garage. It was built in 1926. [map]
Beard Motor Company
Bristow, OK
The Beard Motor Company showroom was built in 1947. The Chrysler Plymouth sign is probably from then or the early 1950s. The building, now vacant, is listed on the National Register of Historic Places. [map]
Buick Building
Oklahoma City, OK
This Buick Building was built in 1911. It was the first showroom built on Automobile Alley. It now houses RED Primesteak. [map]
Markham Motor Company
Oklahoma City, OK
Bill Bull Motors
Muskogee, OK
The Markham Motor Company building is also located in the Automobile Alley district. It was built in 1920. [map]

I believe Bill Bull Motors was established in 1953. It closed around 2018. The building was vacant when this photo was taken in 2019. [map]
Garage Loft Apartments
Oklahoma City, OK
Jess Wales Chevrolet [gone]
Shattuck, OK
The Garage Loft Apartments building was built around 1930. It originally housed the Norton-Johnson Buick Company. In 1995, the building was renovated and converted for residential use. It is listed on the National Register of Historic Places. [map]

The Jess Wales Chevrolet showroom was probably built in the 1940s. This photo is from 2011. By 2014, the building was completely covered with modern Chevrolet panels. It still houses Jess Wales Chevrolet. [map]
Jensen's of Fairview
Fairview, OK
Jensen's of Fairview was established in 1931 as a Case tractor dealership. Jensen's began selling Buick, Pontiac and GMC in the 1960s so those signs must have been added to the building then. I don't know when the Jensen's sign was built but the building might have been built or remodeled in the 1940s. These photos are from 2011. In 2012, the Case Eagle statue was stolen. [map]
RoadsideArchitecture.com

Copyright. All photos at this website are copyrighted and may only be used with my consent. This includes posting them at Facebook, Pinterest, blogs, other websites, personal use, etc.

Tips & Updates. If you have suggestions about places that I haven't covered, historical info, or updates about places/things that have been remodeled or removed, I'd love to hear from you: roadarch@outlook.com.