(hit "refresh" to get the most recent version of this page; click on photos for larger images)
Massopust Building
Perth Amboy, NJ
The Massopust Building was probably a garage and/or dealership originally. The "1916" on the bas-relief of the car probably indicates the year the building was constructed. [map]
Arena Buick GMC
Hammonton, NJ
The Arena Buick GMC dealership was established in the 1920s selling Nash and Dort automobiles. In the 1930s, the company added Oldsmobile and Pontiac. In the 1940s, the front (main showroom portion) was redone. Repair garages are accessible from both sides of the building. The top part of the building is purely decorative and was originally used for lighting. The building sits at the intersection of two main roads. As roads were widened, the dealership lost most of its parking lot. In the early 1970s, Arena was selling Oldsmobile and International Harvester. There were also Getty gas pumps on the side of the building. [map]
former Pontiac dealership
Paterson, NJ
This Pontiac dealership was home to the New Paterson Rod & Gun Club from 1997 until at least 2004 when these photos were taken. The old Pontiac sign was still there. By 2014, the building housed an American Mattress and a Family Dollar store. The sign was reworked and the Indian head was gone. By 2016, Family Dollar was gone. The building now houses the Haibibi Cafe and has been painted red. [map]
Rassas Pontiac [gone]
Red Bank, NJ

Rassas Pontiac opened in 1930 at a different location in Red Bank. The dealership moved to this showroom in 1949. At that time, there was a Mobil station on what is now the used car lot. The building was either the first or one of the first in town to have slanted pane windows. The roofline was updated in the late 1990s. The signage appears to be early 1960s. In 2014, the dealership was demolished. Part of the sign was saved by Fantastic Signs.
Brogan Cadillac Olds [gone]
Clifton, NJ
Ayres Pontiac Cadillac
Burlington, NJ
The Brogan Cadillac Olds showroom was built in 1944. This location closed in 2002. By 2009, the building had been replaced with a housing development.

The Ayres Pontiac Cadillac showroom was also built in 1944, in the same style as the Brogan building. This photo is from 2012. The parking lot was empty at that point and the Ayres sign was gone. The building later housed a used car dealership. In 2019, the building was vacant. [map]
Stadium Ford
Rutherford, NJ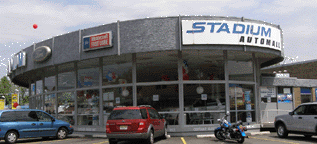 The oval-shaped Stadium Ford showroom appears to be from the 1960s or early 1970s. The building has been remodeled and covered with silver panels since this 2007 photo. The dealership was named after the nearby Giants football stadium. It is now known as the Quality Ford. [map]
RoadsideArchitecture.com

Copyright. All photos at this website are copyrighted and may only be used with my consent. This includes posting them at Facebook, Pinterest, blogs, other websites, personal use, etc.

Tips & Updates. If you have suggestions about places that I haven't covered, historical info, or updates about places/things that have been remodeled or removed, I'd love to hear from you: roadarch@outlook.com.