(hit "refresh" to get the most recent version of this page; click on photos for larger images)
former Overland showroom [gone]
Springfield, MO
This former Overland showroom features a glazed terra cotta tile fašade. The building is or was in use as a thrift store in 2010 when these photos were taken. The building was demolished in 2014.
Wilkerson Ford
Conway, MO

The Wilkerson Ford showroom was built in 1926. The building is used as a senior center now. [map]
Greenlease Cadillac
Kansas City, MO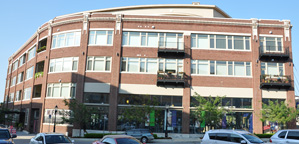 The Greenlease Cadillac showroom was built in 1918. The building features Cadillac crests on the exterior and on the interior columns. In 2006, the building was converted into condos. The ground floor houses the Union Hill Athletic Club. [map]
Miller Chevrolet
St. Joseph, MO

This showroom housed Miller Chevrolet until around the late 1980s. The building appears to be from the 1940s. Greg Buick moved into the building after that. It later housed the Falkner Plumbing Company, a kitchen and bath fixtures store. The building now houses Ben's Asphalt. [map]
Sadler's Chrysler-Plymouth
Clinton, MO
Packard Building
St. Louis, MO
The Sadler's Chrysler-Plymouth showroom was built in 1951. The building later housed Stayton Chevrolet. After that, it was used as a carpet store and furniture store. In 1996, Jim Raysik bought the building and turned it into Downtown DeSoto, a showcase for his car collection. For more, see these websites: 1 and 2. [map]

This Packard Building was built in 1914. Packards were sold here until at least 1953. It is now used as the Packard Lofts. For more, see this website. [map]
former McKinney Motors dealership
Marshall, MO
The building was designed in 1932 and completed in 1935 for McKinney Motors, a Chevrolet dealership. Yost Chevrolet occupied the building from the early to mid-1970s. After that, a Dolly Madison Bread store moved in. The building has housed Tower Realty since 2007. [map]
Bill Allen Chevrolet
North Kansas City, MO
The Bill Allen Chevrolet dealership building appears to be from the 1940s or 1950s. It now houses the Hawaiian Bros. restaurant. The sign on the roof remains. The For more, see this website. [map]
Sam Miller Coach Co.
Kansas City, MO
Ride Away Credit
Kansas City, MO
The Sam Miller Coach Co. was closed when this photo was taken in 2012. The building looks like it was probably used as a dealership originally. In later years, Sam Miller was a body shop. For more, see this website. [map]

This Ride Away Credit used car dealership has a 1960s looking building and signs. The building appeared to be vacant and the lot was empty in 2019. [map]
RoadsideArchitecture.com

Copyright. All photos at this website are copyrighted and may only be used with my consent. This includes posting them at Facebook, Pinterest, blogs, other websites, personal use, etc.

Tips & Updates. If you have suggestions about places that I haven't covered, historical info, or updates about places/things that have been remodeled or removed, I'd love to hear from you: roadarch@outlook.com.