(hit "refresh" to get the most recent version of this page; click on photos for larger images)
former Lowell Buick Company
Lowell, MA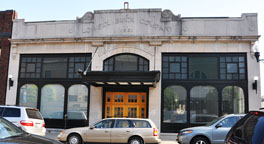 The Lowell Buick showroom was built in 1921. The building now houses office space. [map]
former Worcester Buick Co.
Worcester, MA

The Worcester Buick Co. building was built in 1928 and sold Buicks and GMCs. Many years later, it housed Edward Buick-GMC Truck and, later, Bancroft Motors. The dealership closed around 2007. These photos are from 2011. The building was still vacant in 2013. By 2014, the building was housing restaurants and retail space. [map]
former showroom
West Springfield, MA
This former showroom now houses the Copy Cat Print Shop. [map]
former Orr Motor Co.
West Springfield, MA
This Orr Motor Co. building now houses Valley Sales Co. and Express Kitchens. [map]
former Orr Cadillac [gone]
Springfield, MA

This Orr Cadillac showroom was built in 1957. The dealership closed in 2010 just after this photo was taken. The building now houses the Springfield Rescue Mission. The building has been extensively remodeled and the windows have been walled up. [map]
former Berkshire Auto Co.
Pittsfield, MA
This Berkshire Auto Co. building was built in 1921. These photos are from 2011. Since 2015, the dealership's building has housed the Berkshire Theatre Group. [map]
Woodworth Motors
Andover, MA
Woodworth Motors was established in the late 1940s. I don't know when this showroom was built. It appears the wooden Chevrolet piece was added to the Cadillac sign at some point. The Shawsheen Garage (right photo) is located behind Woodworth Motors and is owned and used by them. The Garage was built in 1921. The dealership is now known as Bill Deluca's Woodworth Chevrolet Cadillac. [map]
former South Shore Buick
Quincy, MA
2004:
2010:
South Shore Buick was originally known as Noyes Buick. This building was designed in 1940 by George Ernest Robinson. Robinson designed many firehouses in Quincy, MA. South Shore Buick closed in 2009. Since 2010, the building has housed a Planet Fitness location. [map]
Ford of Greenfield [gone]
Greenfield, MA

Ford of Greenfield had occupied this building since 1954. This showroom was built in 1930. The carved terra cotta panels depicted the history of transportation with covered wagons, trains, airplanes, and automobiles. The panels were created by Bernard Dirks. These photos are from 2011. In 2015, the building had been demolished so that the dealership could build a more modern building. The six terra cotta panels were saved and donated to the City. There are plans to incorporate them into the design of a new parking garage in town.
former Ira Dodge [gone]
Lowell, MA

Ira Dodge was founded in the 1970s. This building originally housed a Mercury-Edsel-Lincoln dealer known as 1400 Motors, a reference to the address. These photos are from 2011. The building had been vacant since at least 2004 and remained so in 2015. By 2017, the building had been demolished.
Cadillac Village [gone]
Norwood, MA

This round Cadillac Village showroom appeared to be from the mid-1960s. This photo is from 2011. The building was demolished that same year and replaced with a new showroom. The dealership is now known as Cadillac of Norwood.
RoadsideArchitecture.com

Copyright. All photos at this website are copyrighted and may only be used with my consent. This includes posting them at Facebook, Pinterest, blogs, other websites, personal use, etc.

Tips & Updates. If you have suggestions about places that I haven't covered, historical info, or updates about places/things that have been remodeled or removed, I'd love to hear from you: roadarch@outlook.com.