(hit "refresh" to get the most recent version of this page; click on photos for larger images)
former Ford showroom
Crowley, LA
This former Ford showroom was built around 1920. It is now used as the Crowley City Hall after a $2 million renovation in 2005. The building has "Crowley Motor Co." inscribed at the top. [map]
former Ford showroom
New Iberia, LA
former Covington Motors
Covington, LA
This former Ford showroom has been adapted for retail space and currently houses Allain's Jewelry. Does anyone know the history of this building? [map]

Covington Motors was built in 1940. It was a Ford dealership. The buildng has housed the Woodwright Shop since at least 2008. For more, see this website. [map]
Bres Motor Company
Hammond, LA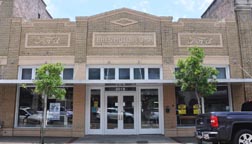 The Bres Motor Company was a Ford dealership. The building may have been built in the 1910s or 1920s. It was vacant when this photo was taken in 2019. For more, see this website. [map]
Airline Motors
La Place, LA

2006:
2010: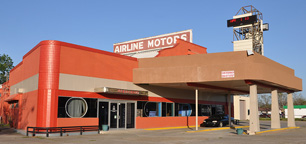 2019: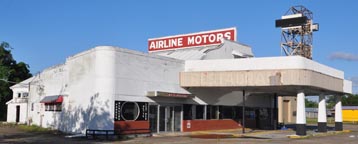 The Airline Motors building was named for its proximity to the airport. It was built for Airline Chevrolet in 1937. A cafe and service shop opened in 1939 and car sales was gradually phased out. The restaurant remained opened through the early 2000s. In 2003, the building still had its canopy sign. Perhaps it was damaged and removed after Hurricane Katrina in 2005. Around 2008, the building's facade and canopy sign were repainted and remodeled. The building housed Debbie's Lounge. By 2016, the building had mostly been repainted white again. It now houses the Airline Pub. For more, see these websites: 1 and 2. [map]
Bohn Motor Co.
New Orleans, LA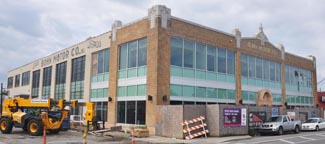 The Bohn Motor Co. was designed by Emile Weil and built in 1925. It was a Ford dealership. The building has been vacant for years. In 2018, restoration work on the building began. These photos are from 2019. The building is list on the National Register of Historic Places. [map]
Greenlaw Truck & Tractor Company
New Orleans, LA
I believe this building originally housed the Greenlaw Truck & Tractor Company. The Gulf Oldsmobile Company moved into the building in 1919. The building now houses Aunt Sally's Praline Shop. [map]
Auto Center
Thibodaux, LA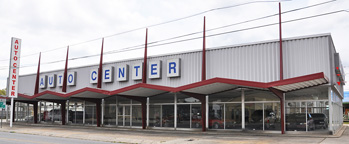 The Auto Center showroom building appears to be from the 1960s. The interior features hanging globe lights. [map]
former Andress Motors
Shreveport, LA
This Andress Motors Ford dealership building was built in 1931. The building has been vacant for many years. [map]
City Parking Lot
Shreveport, LA
The City Parking Lot building was built in 1928. It was used as a combination auto service garage, gas station, and upper level parking. [map]
Wray-Dickinson Building
Shreveport, LA
2007: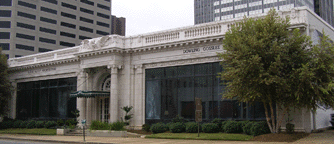 The Wray-Dickinson Building was built from 1913-1915 for the Wray-Dickinson Motor Car Co. The company sold Packards, Hudsons, and Fords. In 1969, the company then known as Wray Ford moved to another location. The building housed an architectural firm and a realtor in 2007. The vintage photos above were on display in the lobby. The building has housed a couple of banks since at least 2013. It is listed on the National Register of Historic Places. For more, see this website. [map]
RoadsideArchitecture.com

Copyright. All photos at this website are copyrighted and may only be used with my consent. This includes posting them at Facebook, Pinterest, blogs, other websites, personal use, etc.

Tips & Updates. If you have suggestions about places that I haven't covered, historical info, or updates about places/things that have been remodeled or removed, I'd love to hear from you: roadarch@outlook.com.