(hit "refresh" to get the most recent version of this page; click on photos for larger images)
Bob Burkle Chevrolet
Clay City, IN
Bob Burkle Chevrolet opened here in 1952. The neon OK sign used to be installed in front of the showroom on a pole. After too many repairs from rock-throwing vandals, Burkle had it restored and put on display inside the showroom. In 2018, the dealership became Clay City Chevrolet and the neon sign was gone. [map]
Auburn Cord Dusenburg Museum
Auburn, IN
The Auburn Cord Dusenburg Museum occupies the former headquarters of the Auburn Automobile Company. The building was constructed in 1930 and served as Auburn's showroom and offices until the company folded in 1937. The Auburn Cord Dusenburg Museum began using this space in 1974. For more, see these websites: 1 and 2. [map]
former showroom
Knightstown, IN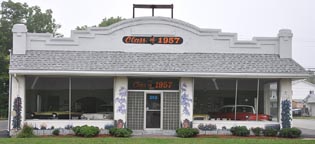 This former showroom is now used by "Class of 1957" to display classic cars. I don't know when the building was constructed or what kind of cars were previously sold here. [map]
former Len Pollak Buick
Gary, IN

The Len Pollak Buick dealership became the Kerr-Nielsen Buick-Jeep-Eagle dealership in the mid-1980s. The building appears to be from the late 1960s or early 1970s. It was vacant in 2009 when this photo was taken. [map]
former showroom?
Shelbyville, IN
This building might be a former showroom. The layout suggests it was at least a garage and possibly a gas station. Does anyone know the history of this place? The building housed Harrison Street Power Equipment when these photos were taken in 2010. By 2014, the building was housing Exclamations, an auto upholstery and window tinting business. [map]
former showroom [gone]
Muncie, IN

This former showroom housed Paul Abel Motors. The company was there by the mid-1950s. The building appears to be from the late 1940s. Abel Motors sold Buick and Studebaker automobiles. The building was used by the Main Street Flea Market when these photos were taken in 2010. The building was still there in 2018 but gone by 2019.
RoadsideArchitecture.com

Copyright. All photos at this website are copyrighted and may only be used with my consent. This includes posting them at Facebook, Pinterest, blogs, other websites, personal use, etc.

Tips & Updates. If you have suggestions about places that I haven't covered, historical info, or updates about places/things that have been remodeled or removed, I'd love to hear from you: roadarch@outlook.com.