(hit "refresh" to get the most recent version of this page; click on photos for larger images)
former showroom
Grinnell, IA
This former Grinnell showroom was built around 1930. The building later housed a hardware store. It was occupied by Main Street Furniture & Appliances when these photos were taken in 2010. In 2013, McNally's Foods moved into the building. Does anyone know what make of automobiles was sold here originally? [map]
Wittrock Motor Company
Carroll, IA
The Wittrock Motor Company started out as the Swaney Auto Company in 1913. It became a Chrysler dealer in 1931. The double canopy gas station, garage, and small showroom were restored in the mid-1990s and used as office space. The buildings are listed on the National Register of Historic Places. They buildings were vacant in 2006 when these photos were taken. Since 2009, the buildings have been occupied by the Santa Maria Vineyard Restaurant & Tasting Room. The parking area between the buildings has been walled off and is now used as a dining area. [map]
Morrison Chevrolet
Stuart, IA

Morrison Chevrolet has a very old dealership building. My guess is that it's from the 1910s or 1920s. Does anyone know the history of this place? This photo is from 2009. Around 2013, a big, new Chevrolet dealership was built in town and this location closed. By 2017, the building was housing a used car dealership and had been painted tan. The Chevrolet signs on the front of the building had been removed. [map]
Leist Oil Co.
Rockwell City, IA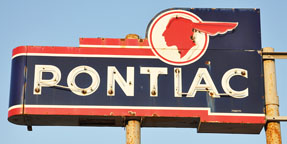 The Leist Oil Co. building was probably used as a combination dealership, garage, and possibly gas station. The bay building on the right must have been a later addition. There is a nice collection of vintage, neon skeleton dealership signs in the windows. The building is now used as a repair shop. [map]
Fisher Garage
Centerville, IA
The Fisher Garage was built around 1920. The building appeared to be vacant when these photos were taken in 2010.
Everhart Motors
Moville, IA
The Everhart Motors showroom was built around 1941. The company sold Fords. There are now classic Ford Mustangs displayed inside. [map]
Ford Building
Marshalltown, IA
This Ford Building was built from 1910-1920. It was used as an assembly plant with a showroom on the ground floor. The Ford plant closed in 1934. The building has housed a variety of businesses over the years including a bowling alley, a Montgomery Wards, and Mayflower Moving. It now houses Independent Insurance Services and other offices. For more, see this website. [map]
former Holmes Motors
Ida Grove, IA
Holmes Motors sold Pontiacs, Cadillacs, and GMC Trucks. The building appears to be from the 1910s or 1920s. The Cadillac sign was probably from the 1960s. These photos are from 2009. By 2012, the dealership was gone and the building was vacant. The sign was gone. [map]
RoadsideArchitecture.com

Copyright. All photos at this website are copyrighted and may only be used with my consent. This includes posting them at Facebook, Pinterest, blogs, other websites, personal use, etc.

Tips & Updates. If you have suggestions about places that I haven't covered, historical info, or updates about places/things that have been remodeled or removed, I'd love to hear from you: roadarch@outlook.com.