(hit "refresh" to get the most recent version of this page; click on photos for larger images)
former dealership
Atlanta, GA
This former dealership housed the Johnson Motor Car Co. in 1914, selling Chevrolet. By 1916, the building housed the Hubbell-Oakes Motor Co. and was selling Hudson. I don't know when the building was constructed or if Johnson was the first occupant. There was another identical building on the same lot at one time. This building has housed Custom Signs Today since at least 2007. [map]
former Cothern-Varnadore Chevrolet
Baxley, GA
Cothern-Varnadore Chevrolet was still operating 2008. The dealership had closed by 2013. I don't know if there was a fire or hurricane but there is not much left of the place. I also don't know when the dealership opened. I would guess that the building on the left is probably from the 1920s and the one on the right was added in the 1940s or early 1950s. [map]
former Darien Motor Company
Darien, GA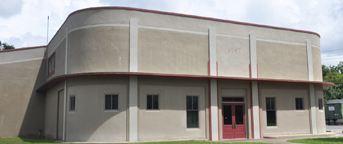 This Darien Motor Company building was built in 1947. It later housed Steve James Ford, Jack Nelson Ford, and Lilliston Ford. The original windows have all been walled up. For more, see this website. [map]
Frank Andrews Chevrolet
Dublin, GA

2009:

2021:
Frank Andrews Chevrolet opened here in 1925. In 2009, Andrews lost its contract with Chevrolet. In 2011, Chevrolet agreed to give them rights to sell their cars again if they built a new dealership elsewhere in town. By 2014, this building was housing the Dublin Auto Outlet. [map]
former Marietta Dodge Jeep
Marietta, GA
2009:
2021:
The Marietta Dodge Jeep showroom was built in the late 1960s. I believe this is the only intact and surviving example of the red and white round "Dodge Dome" showrooms that were built. There was another one in Galesburg, IL which was demolished in 2015. This showroom in Marietta was vacant in 2009 and still had the red Dodge stripe around the building. In 2014, the building was housing Georgia Luxury Cars. By 2021, the building was housing ALM (Atlanta Luxury Motors) Marietta. [map]
former dealership
Savannah, GA
This former dealership building was built in 1897. By 1912, the building was housing the Savannah Motor Car Co. and was selling Cadillacs. The J.C. Lewis Motor Company opened here later that year, selling Ford automobiles. Lewis moved to another location in 1917. Since 1992, the building has housed Saints & Shamrocks. [map]
former Mitnick Chevrolet
Tallapoosa, GA
Mitnick Chevrolet was built around 1920. The dealership closed in the late 1960s. [map]
RoadsideArchitecture.com

Copyright. All photos at this website are copyrighted and may only be used with my consent. This includes posting them at Facebook, Pinterest, blogs, other websites, personal use, etc.

Tips & Updates. If you have suggestions about places that I haven't covered, historical info, or updates about places/things that have been remodeled or removed, I'd love to hear from you: roadarch@outlook.com.