(hit "refresh" to get the most recent version of this page; click on photos for larger images)
One East Avenue (now Bank of America)
Rochester, NY
The One East Avenue building was built in 1962 for the Security Trust Company. It later housed Fleet National Bank (aka "Fleet Center"). It is now used as Bank of America's regional headquarters. The 11-story tower was renovated in 1985. For more, see this website. [map]
The 27-story Chase Tower was built in 1973. It was renovated in 1987. The building is linked to the skyway system which is a series of climate-controlled walkways and skybridges that connect several hotels and office buildings downtown. For more, see this website. [map]
Midtown Tower
Rochester, NY
Xerox Tower
Rochester, NY
The Midtown Tower was built in 1962. This photo is from 2010. In 2011, the building was stripped and rebuilt during a conversion to residential and commercial use. The exterior was completed in 2014. The top part of the building is now faced with black glass and the details are gone. For more, see these websites: 1 and 2. [map]

The Xerox Tower was designed by Welton Becket Associates and built in 1968. At 30 stories, this is the tallest building in Rochester. For more, see these websites: 1 and 2. [map]
State Insurance Fund Building
New York, NY
The State Insurance Fund Building was designed by Lorimer Rich and built in 1955. It features a huge canopy with recessed lighting, a terrazzo floor, and bas-relief artwork. In 2019, the canopy had been removed. [map]
Physicians and Surgeons Building
Staten Island, NY
The Physicians and Surgeons Building shown in the top row of photos was built in 1975. I don't know if the building in the bottom row was built at the same time or later, in the same style. [map]
Orange County Government Center [gone]
Goshen, NY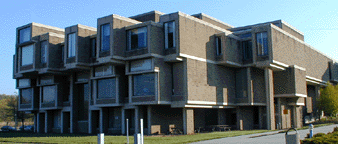 The Orange County Government Center was designed by Paul Rudolph in 1963 and is one of his largest buildings. This "corduroy concrete" building had been vacant since 2007 and it had been endangered even longer than that. All 87 of the roofs had leaks and the building was never popular in town. Rudolph is best known for his Florida houses. This building bore some resemblance to the 1967 Expo Habitat in Montreal. After many years of preservationists battling to save this building, it was demolished in 2015. Two wings were saved and altered. For more, see this website.
RoadsideArchitecture.com

Copyright. All photos at this website are copyrighted and may only be used with my consent. This includes posting them at Facebook, Pinterest, blogs, other websites, personal use, etc.

Tips & Updates. If you have suggestions about places that I haven't covered, historical info, or updates about places/things that have been remodeled or removed, I'd love to hear from you: roadarch@outlook.com.