(hit "refresh" to get the most recent version of this page; click on photos for larger images)
New Mexico Bank & Trust
Clovis, NM
This New Mexico Bank & Trust drive-up branch appears to be from the 1960s. This photo is from 2012. By 2018, the building was housing Mr. Payroll Check Cashing. [map]
Citizens Bank of Clovis
Pile St.
Clovis, NM
Citizens Bank of Clovis
Main St.
Clovis, NM
The Citizens Bank of Clovis main branch is located on Pile St. The round building was constructed from 1967-1968 from cast concrete, steel, and glass. [map]

The Main Street building is an "auto bank" just north of town. It was probably built in the 1960s. [map]
First National Bank
Artesia, NM
The building on the left houses the First National Bank and the Navajo Pipeline Co. The building across the street is used as the bank's drive-thru. Both buildings appear to be from the 1960s. These photos are from 2012. The metal screens were removed from the building by 2015. The drive-thru building shown above on the right is gone now. [map]
former Los Alamos Credit Union
Los Alamos, NM
The former Los Alamos Credit Union building now houses the El Parasol Restaurant. It appears to be from the 1960s. [map]
former First National motor bank
Hobbs, NM
This former First National motor bank is now part of the J.B. & Maggie Tidwell Art Park which was dedicated around 2008. [map]
former Security Bank & Trust
Alamogordo, NM
Bank of the West Building
Albuquerque, NM
The Security Bank & Trust was designed by Voll & Nolan and built around 1968. Originally, there was a fountain and sculpture in front of the bank. The building later came to be known as the Champion Building. The building has been vacant for many years. For more, see this website. [map]

The Bank of the West Building was built in 1963. The bank moved out in 2012 and most of the building now houses state government offices including the Department of Motor Vehicles. [map]
Citizens Bank motor bank
Farmington, NM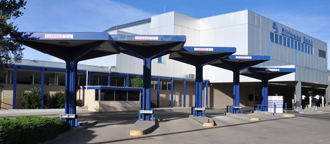 This Citizens Bank motor bank canopies appear to be from the 1960s. [map]
Wells Fargo Bank
Farmington, NM

2012:
2017: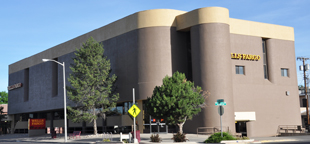 motor bank
2012:
2017:

This Wells Fargo Bank branch was built as the First National Bank of Farmington. The buildings appear to be from the 1960s and/or 1970s. The motor bank is located across the street from the main branch. By 2017, both the main bank and the motor bank had been repainted and new signs were installed. [map]
RoadsideArchitecture.com

Copyright. All photos at this website are copyrighted and may only be used with my consent. This includes posting them at Facebook, Pinterest, blogs, other websites, personal use, etc.

Tips & Updates. If you have suggestions about places that I haven't covered, historical info, or updates about places/things that have been remodeled or removed, I'd love to hear from you: roadarch@outlook.com.