(hit "refresh" to get the most recent version of this page; click on photos for larger images)
Lawyers' Office
Austin, MN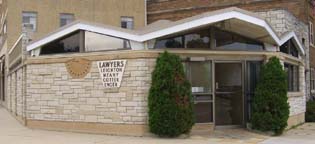 This Lawyers' Office also appears to be mid-century modern. The feature to the left of the sign is a sundial. [map]
Grand Meadow High & Middle School
Grand Meadow, MN

The Grand Meadow High & Middle School features five interconnected monolithic domes. The domes were built in 2002 which is too late to be considered mid-century but I'll include this place here anyway. For more, see this website. [map]
Fasbender Clinic
Hastings, MN

The Fasbender Clinic was designed by Frank Lloyd Wright and was built in 1959. The building is listed on the National Register of Historic Places. It now houses an Edward Jones Investments office. For more, see this website. [map]
Southeast Library
Minneapolis, MN
The Southeast Library was designed by Ralph Rapson as a credit union in 1964. It was converted into a library in 1967. About two-thirds of the building is underground. For more, see these websites: 1 and 2. [map]
Northwestern National Life Insurance Company Building
Minneapolis, MN
The Northwestern National Life Insurance Company Building is now known as the now known as the ING Reliastar Building. It was designed by Minoru Yamasaki and built in 1964. For more, see these websites: 1, 2, and 3. [map]
Moorhead City Hall
Moorhead, MN
Moorhead City Hall was built in 1973. It is located in the Moorhead Center Mall. [map]
Education Building
St. Paul, MN
Cenex Building
South St. Paul, MN
The Education Building is located at the Minnesota State Fair. It appears to be mid-century modern. Does anyone know more about it? [map]

The CENEX Building was built in 1957. The company was known as the Farmers Union Central Exchange at that time. The building is now used as office space for multiple companies. [map]
Cascade Vacation Rentals
Tofte, MN
Habitatts Tattoo
Virginia, MN
The Cascade Vacation Rentals building was constructed by 1956. It features a concrete, hyperbolic paraboloid roof. The building originally housed Olsen's Motel & Gift Shop. It now houses the Bluefin Bay resort. For more, see this website. [map]

The screen at Habitatts Tattoo appears to be from the 1960s. Does anyone know what was here originally? [map]
Kandiyohi County Courthouse
Willmar, MN
Sterling Motel [gone]
Winona, MN
I believe the Sterling Motel was built in 1957. It was demolished in 2015. For more, see this website. Evidently, this motel was part of a chain with other locations in Red Wing, MN, Clinton, IA, Minot, ND, and maybe others.
State Farm Insurance
Worthington, MN
This State Farm Insurance office was built around 1975. I believe it originally housed a real estate office. It is sometimes referred to as the Octagon Building. The building has housed State Farm since at least 2009. [map]
RoadsideArchitecture.com

Copyright. All photos at this website are copyrighted and may only be used with my consent. This includes posting them at Facebook, Pinterest, blogs, other websites, personal use, etc.

Tips & Updates. If you have suggestions about places that I haven't covered, historical info, or updates about places/things that have been remodeled or removed, I'd love to hear from you: roadarch@outlook.com.