(hit "refresh" to get the most recent version of this page; click on photos for larger images)
Back Care Clinic
Des Moines, IA
The Back Care Clinic appears to be from the 1960s or 1970s. [map]
Camp Fire USA
Des Moines, IA

This Camp Fire USA building appears to be from the 1960s. It was built for an engineering firm. Camp Fire USA has owned the building since the 1980s. Does anyone know the name of the firm that was here originally or when this building was constructed? [map]
Val Air Ballroom
Des Moines, IA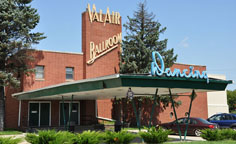 This Val Air Ballroom opened in 1939 as an open-air ballroom. In 1961, there was a serious fire and the ballroom was rebuilt. The Val Air continues to offer live performances and hosts private parties. For more, see this website. [map]
Hardin Library for the Health Sciences
Iowa City, IA
The Hardin Library for the Health Sciences is located at the University of Iowa campus. It was designed by Walter Netsch of Skidmore, Owings & Merrill and built from 1972-1974. The building was originally known as the Health Sciences Library and renamed in 1989. For more, see this website. [map]
State Central Bank
Keokuk, IA
This State Central Bank "Motor Bank" location appears to be from the 1960s. The name has been changed to Pilot Grove Savings Bank. [map]
Totem Bowl [gone]
Marshalltown, IA

The Totem Bowl was built in 1961 and closed in 2016. In 2020, Wayward Social opened in the building. The tile murals have either been painted over or removed.
Clear Choice Windows
Mason City, IA
The Clear Choice Windows building appears to be from the 1960s. From its style and position on this big lot, my guess would be that this building was a used car dealership office originally. These photos are from 2010. The building was vacant in 2013. The building now houses a clock and watch repair business. [map]
Dodecagon Plaza
Spencer, IA
The Dodecagon Plaza apartments appear to be from the 1960s. A dodecagon is a polygon with twelve sides. By 2021, the name was changed to Big Sky Plaza. [map]
former Northwest Bank
Spencer, IA
This Northwest Bank branch appears to be from the 1960s or 1970s. This photo is from 2012. The bank was closed in 2013. The building now houses the City of Spencer. [map]
House
Urbandale, IA
This House, aka the "spaceship house", was built in recent years but I'll include it in this section anyway. It has an elevator and a 6,000 square foot garage. Does anyone know more about it? [map]
Maple Lanes [gone]
Waterloo, IA
The Maple Lanes appeared to be from the late 1950s or early 1960s. This photo is from 2009. Although the bowling alley is still there, at some point between 2012 and 2018, the building was completely remodeled. The zigzag canopy, screens, and the neon sign are gone. For more, see this website. [map]
GuideOne Insurance
West Des Moines, IA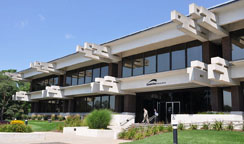 GuideOne Insurance was previously known as the Preferred Risk Mutual Insurance Company. This has been the company's headquarters since it was built in 1968. [map]
RoadsideArchitecture.com

Copyright. All photos at this website are copyrighted and may only be used with my consent. This includes posting them at Facebook, Pinterest, blogs, other websites, personal use, etc.

Tips & Updates. If you have suggestions about places that I haven't covered, historical info, or updates about places/things that have been remodeled or removed, I'd love to hear from you: roadarch@outlook.com.