(hit "refresh" to get the most recent version of this page; click on photos for larger images)
The spaceship-like Futuro was developed in Finland in the late 1960s and produced until the early 1970s. These reinforced plastic structures were distributed worldwide. While most were used as houses, others were used for office space. The interiors featured built-in plastic furniture laid out around a central fireplace. It is believed there were only 96 Futuros produced (48 in Finland and 48 elsewhere). For more about Futuros, see these websites: 1 and 2.
Futuro
Willingboro, NJ
This Futuro is located in Mill Creek Park. This entrance structure conceals the original steps. This Futuro was used as a bank either originally or before it was moved to the park. There were other Futuros in Princeton and Lakewood, NJ. I don't know if this one was either of those. Futuros are light and easy to move by crane or helicopter. [map]
Futuro
Royse City, TX

2011:
2018:
This Futuro was originally located in Garland, TX. It has been here since at least 1996. It was moved here to be part of a used car dealership. The property was later used for a residence. Around 2001, it was sold and there were plans to possibly open it as a restaurant. However, that never happened and the Futuro has been vacant since then. These photos are from 2011. In 2014, it was repainted orange. However, it still remains vacant and window-less. Since 2017, vandals have been painting graffiti on the outside and inside of the structure. For more, see this website. [map]
Futuro
Greenwich, NJ

2006: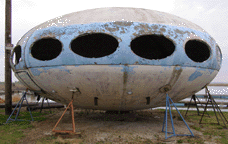 2010:
This Futuro was part of the "Planet of the Apes" ride which was built in 1975 on Morey's Pier in Wildwood, NJ. In the late 1970s, the ride was changed to a Star Wars theme. Since 2003, it has been located near the Bait Box Restaurant. In 2010, there were signs of a restoration taking place. However, the project was soon abandoned. In 2014, the Futuro turned up for sale on eBay. However, it was still there, and still just a shell, in 2018. For more, see these websites: 1 and 2. [map]
Futuro
Pensacola Beach, FL

2005:
2019:
This Futuro was built in 1966. It is installed on the roof of a house and has withstood several hurricanes. [map]
Futuro
Tampa, FL
This Futuro is installed on the roof of the 2001 Odyssey strip club. It is used as a VIP room for private dances. [map]
Futuro
Houston, DE
Futuro
Milton, DE
This Futuro in Houston is on residential property, at the end of a long driveway. I have read about a Futuro in Harrington, DE which I believe refers to this one. [map]

This Futuro in Milton is located next to the Eagle Crest Aerodrome. These photos are from 2005. The Futuro has been painted white since then. For more, see this website. [map]
Futuro
Covington, KY
Futuro
Frisco, NC
The Futuro in Covington is used as a private residence on a hill overlooking Cincinnati, OH. Note that this Futuro appears to have only half the amount of original windows. [map]

The Futuro in Frisco is located on private property but right next to the main road. It doesn't seem to be used for anything right now but the house behind it looks lived in. This Futuro was painted green at one time and was used as an ice cream/hot dog stand that sold retro "space age" items. [map]
Futuro
Joshua Tree, CA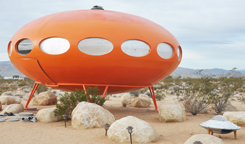 The Futuro was previously located in Rockland, WI. It was moved here in 2019. It has been restored and is now used as a vacation rental known as the Area 55 Futuro House. For more, see this website.
Futuro
Livingston, IL
2010:
2012:
This Futuro is installed at the Pink Elephant Antique Mall. It was previously located in Springfield, IL. It was repainted green in 2010 just after the first photo above was taken. It is silver now. [map]
Futuros
Carlisle, OH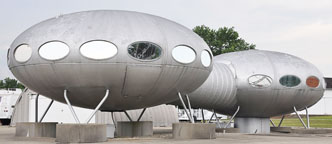 These two Futuros have been joined with a space-age pipe breezeway. The owner's first Futuro came from Springboro, OH. He got the second one later from New York. The structures are used as a residence and have central air and enough insulation to stay toasty in winter. One of the Futuros has an original interior. For more, see this website. [map]
RoadsideArchitecture.com

Copyright. All photos at this website are copyrighted and may only be used with my consent. This includes posting them at Facebook, Pinterest, blogs, other websites, personal use, etc.

Tips & Updates. If you have suggestions about places that I haven't covered, historical info, or updates about places/things that have been remodeled or removed, I'd love to hear from you: roadarch@outlook.com.