(hit "refresh" to get the most recent version of this page; click on photos for larger images)
Giant
Bowling Pin
Tampa, FL
Giant
Bowling Pin
Lebanon, TN
Giant
Bowling Pin
Tremonton, UT
Giant
Bowling Pin [gone]
Marshalltown, IA
Giant Bowling Pin [gone]
Harrisburg, PA
Giant Bowling Pins
Clayton, OH
The Bowling Pin in Tampa stands just outside Splitsville, a contemporary bowling alley which opened in 2004. The owners claim that this is the world's largest bowling pin. It appears to be about 20 feet tall.

The Bowling Pin in Lebanon is located at Pro Bowl West. [map]

The Bowling Pin in Tremonton is installed above the sign for the Grille Restaurant. It advertises for the Bear River Bowling Center. [map]

The Bowling Pin in Marshalltown was located next to the former Chippewa Lanes. It was about 20 feet tall. This photo is from 2010. By 2013, the pin was gone.

The Bowling Pin in Harrisburg was installed on a trailer at the Red Crown Bowl & Brew. It was still there in 2016. However, by 2017, the Bowling Pin and the bowling alley itself were gone.

The Bowling Pins in Clayton support the canopy at Timber Lanes bowling alley. I believe this place is closed now. The Pins were still there in 2021. For more, see this website. [map]
Buckhorn Lanes
Waynesville, MO
Bird Bowl Bowling Center
Miami, FL
Bowling Pins and Ball
Santa Cruz, CA
Bowling Pin
Bishop, CA
The giant bowling pin sign at Buckhorn Lanes is located right next to I-44. [map]

The Bird Bowl Bowling Center opened in 1956. There was originally a large neon sign on the front of the building. These pins were probably added in the 1960s. For more, see this website. [map]

These Bowling Pins and Ball in Santa Cruz are located on the roof at the Boardwalk Bowl. They appear to be about four feet tall. For more, see this website. [map]

The Bowling Pin installed on a pickup in Bishop advertises for the Back Alley Bowl & Grill. [map]
National Bowling Stadium
Reno, NV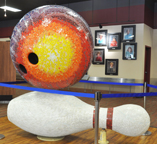 This mosaic tile sculpture at the National Bowling Stadium museum was created by Eileen Gay in 2012. It is titled "Pin Setting." The pin is eight feet wide. For more, see this website. Eileen Gay
More Giant Bowling Pins:
Bay Lake, FL
Dolton, IL
Detroit, MI
Imperial, MO
Mentor, OH
Medina, NY
Port Jefferson, NY
Lawrenceburg, TN
Bluefield, WV
Calgary, AB
Eindhoven, Netherlands
Giant Hockey Stick & Puck
Eveleth, MN
This Hockey Stick is 110 feet long. The original hockey stick was built in 1995 and was 107 feet long. It began to crack and was replaced with this one in 2002. [map]
Giant Game Pieces
Philadelphia, PA
These Giant Game Pieces were installed in 1996 in Thomas Paine Plaza downtown. The fiberglass and steel statues include dominos, chess figures, bingo card markers, a Monopoly hat and iron, and Parcheesi pieces. The artwork is officially entitled "Your Move" and was a collaborative project of Daniel Martinez, Renee Petropoulis and Roger White. [map]
Giant Chess Set
Newport Beach, CA
This Giant Chess Set has been located at the Hyatt Regency since at least 2015. Evidently, there are other Hyatts that have these, including these in Anaheim, CA, Australia and Egypt. [map]
Monopoly in the Park
San Jose, CA

Monopoly in the Park was built in 1992 and officially opened in 2002 with the completion of Guadalupe River Park. The giant Monopoly board is 930 square feet. For more, see this website. [map]
Giant Dart
Sacramento, CA
Giant Lawn Dart
Lafayette, CO
Giant Dominos
Davis, CA
Lego Blocks [gone]
Grand Junction, CO
The Giant Dart in Sacramento is one of three installed in front of Golden 1 Center. They are made of fiberglass and stainless steel and were created by Gale Hart in 2016 as part of the "Missing the Mark" installation. The sculpture group also includes a dart board, concrete numbers, and a giant hand with dart tails. For more, see these websites: 1 and 2. [map]

The Giant Lawn Dart in Lafayette is installed near the Bob L. Burger Receration Center. The sculputure, titled "Banned," was created by Jim Small in 2009. [map]

These Giant Dominos were created by Eddy Hood in 1994. The sculpture, "Domino Effect II", is part of the City of Davis Art in Public Places program. [map]

These giant Lego Blocks were installed on the roof of the eBricks Outlet Store. This photo is from 2012. By 2018, the store and the Legos were gone.
These stainless steel Ball and Jacks were created by Christopher Weed and installed in 2016 in front of the Douglas County Library. The two Jacks are 14 feet tall. [map]
Slingshot
Loveland, CO
This Slingshot has been located next to Majestic Roofing since at least 2018. [map]
Knight
Cloverdale, CA
Giant Poker Chips
Reno, NV
This Knight chess piece was created by Peter Crompton and Robyn Spencer Crompton. It was built from reinforced concrete and installed in town in 2019. [map]

The Giant Poker Chips are made from concrete and covered with glazed porcelain mosaic tiles created by Eileen Gay. The sculpture is titled: "In The Chips: Fate, Luck & Magic." The three stacks function as public seating. They were installed in 2006. [map]
RoadsideArchitecture.com

Copyright. All photos at this website are copyrighted and may only be used with my consent. This includes posting them at Facebook, Pinterest, blogs, other websites, personal use, etc.

Tips & Updates. If you have suggestions about places that I haven't covered, historical info, or updates about places/things that have been remodeled or removed, I'd love to hear from you: roadarch@outlook.com.