(hit "refresh" to get the most recent version of this page; click on photos for larger images)
This Cave House was built in the 1920s as the Cave Garden restaurant. It is now used as a private residence. For more, see these websites: 1 and 2. [map]
The Cavern
Rock Island, IL
The Cavern was an underground bar. This entrance led to the stairs. This structure has been there since at least the 1970s. It had been painted green as long as anyone can remember. Around 2018, the building was painted brown. The bar has been closed for many years. There is a closed bar next door but the buildings are not connected. [map]
The Rock Stop gift shop building was constructed in the early 1970s for Dinosaurland. The rock-like building was made of fiberglass and plaster over chicken wire. There were about 14 dinosaur statues on display here which were built by Elbert Porter. The statues had previously been displayed near Salt Lake City and later in West Yellowstone, MT. In 1977, the statues were moved to the Utah Field House of Natural History in Vernal, UT. In 1981, this building became home to Joe's Rock Shop. It was later renamed the Rock Stop. For more, see this website. [map]
former Harry's Kurio Kastle
Arnolds Park, IA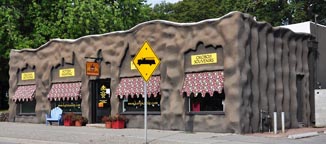 Harry's Kurio Kastle gift shop had been here since at least the late 1930s. The original owner, Harry Tenant, was an expert taxidermist and displayed his work inside the store. The building's cave-like appearance is made of stucco. This photo is from 2012. By 2015, the building was housing Jensen Real Estate. For more, see these websites: 1, 2, 3, and 4. [map]
Grandpa's Steakhouse [gone]
Cocoa, FL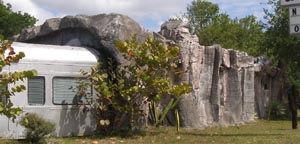 Grandpa's Steakhouse consisted of two converted Pullman train cars from 1947 entering a faux cave. The train cars came from Circus World in Haines City, FL. The restaurant opened in 1980. In 2018, the train cars were gone and the cave had been demolished.
Hock Your Rocks [gone]
Cocoa, FL
fake rocks [gone]
Panama City Beach, FL
The proximity and style of the Hock Your Rocks pawn shop building leads me to believe that it was probably built by the same person and at the same time as Grandpa's Steakhouse described above. This photo is from 2009. By 2011, the building was vacant. In 2016, the building was demolished. Does anyone know more about this building?

These fake rocks were probably from the 1960s. It was originally a tiki bar with a waterslide in the back. It was connected to the Rendezvous Inn between the road and the beach. In the 1980s and 1990s, the rocks building housed the U-Turn Sunburn Saloon. The building was damaged during a hurricane in 1995 and never reopened. This photo is from 2009. It still remained protected behind chain link fencing in 2017. It was demolished later that year.
Alvin's Island Tropical Department Store [gone]
Panama City Beach, FL

2010:

2019:
Alvin's Island has a chain of stores selling souvenirs, beachwear, and other related items. This was their first store. There is another store in Fort Walton. This cave-like building was originally the home of "Jungle Land" which was built in 1966. Jungle Land closed in the late 1970s. Alvin's took over in 1981 and named the place "Alvin's Magic Mountain Mall". In 2018, the store closed after damage from Hurricane Michael. It was demolished in 2020. For more, see these websites: 1 and 2.
Rainforest Car Wash
Lafayette, IN
The Rainforest Car Wash has been here since at least 2004. It features Mayan ruins, swinging monkeys, animatronic elephants, with thunder and animal sound effects. A giant head moves his eyes from right to left and bellows things like "watch out for the gorillas!" followed by an evil laugh. The car wash closed in 2012. It is now known as Pop 'n Wash. Some of the Mayan details, like the giant head, have been removed. For more, see this website. [map]
RoadsideArchitecture.com

Copyright. All photos at this website are copyrighted and may only be used with my consent. This includes posting them at Facebook, Pinterest, blogs, other websites, personal use, etc.

Tips & Updates. If you have suggestions about places that I haven't covered, historical info, or updates about places/things that have been remodeled or removed, I'd love to hear from you: roadarch@outlook.com.