(hit "refresh" to get the most recent version of this page; click on photos for larger images)
Tiny Town
Morrison, CO

Tiny Town opened in 1924 with 125 miniature buildings. The property has been devastated by several floods over the years and was rebuilt. In addition to the replicas of local businesses, there are also models of the Coney Island Boardway and Air Force Academy Chapel. Tiny Town also features an operating steam engine railroad. For more, see these websites: 1 and 2.
Safety City
Baltimore, MD
Safety City is located in Druid Hill Park. It is used to teach children about traffic rules and includes small scale buildings (a farm house, landmark skyscrapers), scaled down roads with painted lines and signs, as well as functioning traffic lights.
Safety Town
Lorain, OH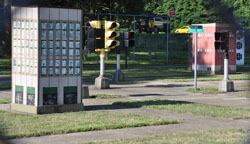 Safety Town is operated by the Lorain Police Department. It is used as part of a program which teaches things like how to cross streets, bicycle safety, use of seat belts, etc.
Frisco Fire Safety Town
Frisco, TX
The Frisco Fire Safety Town was built around 2003. It features 17 buildings which are replicas of local businesses. There is also a toll booth, railroad tracks with working crossing arms, and functioning traffic signals. Children ride bicycles and drive battery-powered jeeps through the streets to learn about safety. Safety Town is located at the Central Fire Station. For more, see these websites: 1 and 2.
More Safety Cities:
Tampa, FL [vintage]
Elmhurst, IL
Louisville, KY
Hamilton, NJ
Oregon, OH: 1, 2
Lubbock, TX
Calgary, AB
Red Deer, AB
Hong Kong, China [vintage]
Midget City
Mitiwanga, OH [gone]
Midget City
Detroit, MI [gone]
Midget City was moved to Orlando, FL in the 1960s and apparently no longer exists. The entire city was built by one man. For more, see this website.

The Midget City in Detroit was located in what is now known as Redford, MI. It was built in 1939 and gone by the end of World War II. For more, see this website. [scans thanks Michael Venture]
More Mini Cities:
Tiny Town (Hot Springs, AR)
Miniature Dutch Village (Pella, IA)
Littleville (Chesterton, IN) [gone]
Clinch Park Miniature City: 1, 2, 3 (Traverse City, MI)
Northlandz (Flemington, NJ): 1, 2, 3
New York City Panorama (Queens, NY)
Cincinnati in Motion (Cincinnati, OH)
Miniature Graceland (Roanoke, VA)

Cockington Green Gardens (Canberra, Australia)
Tudor Village at Fitzroy Gardens (Melbourne, Australia)
Abingdon Miniature Village (Mandurah, Australia)
Cullen Gardens & Miniature Village (Whitby, Ontario, Canada): 1, 2
Bekonscot Model Village (Beaconsfield, Buckinghamshire, England): 1, 2
John Usher Miniature Village (Coniston, Cumbria, England)
Lakeland Miniature Village (Grange-over-Sands, Cumbria, England)
Madurodom (Netherlands): 1, 2

For examples of religious miniature cities, see these pages: Holy Land USA and Ave Maria Grotto.

Also worth noting, is Progress City, which was built in the mid-1960s. It was part of Disneyland's Carousel of Progress and was later moved to Epcot Center. The giant model was a fantasy city complete with working traffic lights, moving cars, flying airplanes, etc. Lighting changed to represent different times of day just as the display at Roadside America does.
RoadsideArchitecture.com

Copyright. All photos at this website are copyrighted and may only be used with my consent. This includes posting them at Facebook, Pinterest, blogs, other websites, personal use, etc.

Tips & Updates. If you have suggestions about places that I haven't covered, historical info, or updates about places/things that have been remodeled or removed, I'd love to hear from you: roadarch@outlook.com.