(hit "refresh" to get the most recent version of this page; click on photos for larger images)
Laptop Guy [gone]Chattanooga, TN
Laptop Guy [gone]Jackson, TN
PrinterNashville, TN
The Laptop Guy in Chattanooga was installed on the roof of this First Tennessee Bank. These photos were taken in 2007. By 2014, the statue was gone.

The Laptop Guy in Jackson was installed on top of a billboard. This photo is from 2011. The statue is gone now. 17 of these eight-foot-tall statues were created in 2000 for First Tennessee Bank to promote on-line banking. For more, see this website.

This Printer and printing press are installed in front of Midtown Printing. Does anyone know how long this guy has been here? [map]
Ramesses the GreatMemphis, TN
2010:
2019:
This Ramesses the Great statue is 20 feet tall. It was created from a mold of the Ramesses statue in Egypt. The statue was installed in front of the Pyramid Arena which was built in 1991. The pyramid-shaped building was used as a sports facility until 2004. It now houses a Bass Pro Shop. In 2012, the statue was moved to the University of Memphis. [map]
Tom Lee MonumentMemphis, TN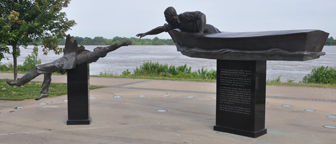 In 1925, Tom Lee rescued 32 people from the Mississippi River in Memphis in his skiff when a steamboat capsized. This monument was built in 2006 to memorialize the event. It was sculpted by David Alan Clark. For more, see this website. [map]
Nathan Bedford ForrestNashville, TN
In 1998, this 25-foot-tall fiberglass statue of Nathan Bedford Forrest was installed next to I-65. The equestrian statue has aroused quite a bit of controversy since Forrest was a major figure in the founding and growth of the Ku Klux Klan. In 2017, vandals painted the statue pink. The owner will probably leave the statue like that. For more, see these websites: 1 and 2. [map]
Bobby's Idle Hour Tavern [gone]Nashville, TN
This singer/musician stands in front of Bobby's Idle Hour Tavern. He is about 15 feet tall. I believe he is called the "Big Man". Bobby's Idle Hour has been here since the 1950s but I don't know when the statue was installed. It was removed in 2016.
RoadsideArchitecture.com

Copyright. All photos at this website are copyrighted and may only be used with my consent. This includes posting them at Facebook, Pinterest, blogs, other websites, personal use, etc.

Tips & Updates. If you have suggestions about places that I haven't covered, historical info, or updates about places/things that have been remodeled or removed, I'd love to hear from you: roadarch@outlook.com.