(hit "refresh" to get the most recent version of this page; click on photos for larger images)
former station
Two Rivers, WI
This former station was probably a Deep Rock Kerr-McGee station originally. The building now houses Gulseth Electric. [map]
Kletzsch Perk [gone]
Glendale, WI
The Kletzsch Perk coffee shop operated in this former gas station from 2003-2007. The building remained vacant until 2019 when it was completely gutted and renovated for Gourmet Goodies. The porcelain panels are gone and the building looks nothing like this anymore. [map]
Parman's Service Station [gone]
Madison, WI
former station
Sparta, WI
Parman's Service Station was built in 1941. A vintage photo shows two Texaco stars on the side of the building at that point. This station never had porcelain enamel panels. The pumps were removed in 1998 but the business continued as a repair shop until 2011. The building was demolished by 2012.

This former station now houses Loren's Auto Service. It appears to be from the 1940s. [map]
former Gulf station
Baraboo, WI

This former Gulf station now houses an auto repair business. [map]
former Mobil station
Osceola, WI
This former Mobil station was built in 1947. Frederick G. Frost, Jr. designed this style of station in the 1940s for Socony (Standard Oil of New York). The round office was a reference to the shape of an oil drum. In the 1950s, this station was known as Kraska's Mobil Service. It was later used as a Skelly station. It last operated as a gas station in the 1980s. The remodeled building now houses a law office. [map]

I believe this is the only building of this style still in recognizable form. There was one in Clinton Township, MI which was demolished in 1999. There is another example in Dearborn, MI which has been repurposed.
former station
Beloit, WI
This former station in Beloit was probably a typical porcelain enamel clad building before being faced with rocks. Does anyone know more about this place? [map]
Michael's Frozen Custard
Atwood Ave.
Madison, WI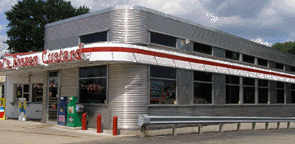 Michael's Frozen Custard
Monroe St.
Madison, WI
former Michael's Frozen Custard
Verona, WI
Michael's Frozen Custard's four locations occupy former, abandoned gas stations. The first location on Monroe St. opened in 1986. The Verona store opened in 1987 and the Atwood in 1989. A fourth location on Schroeder Rd. in Madison opened in 1995. That location also occupies a former Texaco gas station. The Verona location closed in 2013. It housed Treads Bar & Grill after that but appeared to be vacant in 2017. It was still vacant in 2019. The Monroe St. location now houses Chocolate Shoppe Ice Cream. It no longer has the gas station panels. For more, see these websites: 1 and 2. [Atwood Ave. map]; [Monroe St. map]; [Schroeder Rd. map]; [Verona map]
RoadsideArchitecture.com

Copyright. All photos at this website are copyrighted and may only be used with my consent. This includes posting them at Facebook, Pinterest, blogs, other websites, personal use, etc.

Tips & Updates. If you have suggestions about places that I haven't covered, historical info, or updates about places/things that have been remodeled or removed, I'd love to hear from you: roadarch@outlook.com.