(hit "refresh" to get the most recent version of this page; click on photos for larger images)
former Sinclair station
St. Charles, MO
This Sinclair station was built in the 1950s or 1960s. The sign was from that same time period but its pole appeared older. This station was still operating as a Sinclair when these photos were taken in 2010. By 2015, the Sinclair signs were gone and the place was operating as Budde Brothers Auto Repair. The non-operating pumps are still there but the Sinclair name has been removed. [map]
former Sinclair station
St. Louis, MO
This Sinclair station was built in 1953. It was also known as the Chippewa & Giles Service Station. These photos are from 2010. By 2012, the Sinclair letters had been removed from the building. The pumps are gone. The pole signs now advertise for VN Auto Service. [map]
former Standard Oil station
St. Louis, MO
2010:

2012:

This former Standard Oil station now houses Howard's Detail Shop, a car wash. This gigantic canopy design was developed by Standard Oil in 1964. It looks quite similar to those used by Western Discount Centers. In fact, there are seven letter panels on both canopy designs which makes me suspicious that this station was actually built for Western. Western may also have been a subsidiary of Conoco. [map]
former Standard Oil station
Savannah, MO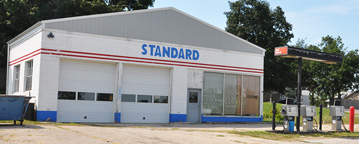 This former Standard Oil station was vacant when this photo was taken in 2010. It was still vacant in 2018. I don't know if it was originally a Standard station or just painted to look like one later. The peaked roof is obviously a later addition. Around 2018, the building was painted and a plastic Standard sign was added to the empty sign pole. [map]
The Amoco sign is the largest Amoco sign in the world. It is about 40 feet by 60 feet. It is also believed to be the world's largest two-sided plexiglass sign as well. It was preceded at this site by a 65-foot-tall and 85 foot wide sign which was built in 1923. That sign advertised for Standard Oil. It had 5,260 bulbs. The gas station and sign were destroyed in 1931 for new buildings and a new sign. That one was 45 feet across and 60 feet tall. It had 5,800 bulbs and 2,900 feet of neon.

In 1959, the current station was built and another sign was erected in 1961. This one was made of backlit plastic. In 1985, the brand changed from Standard Oil to Amoco sign and the panels were replaced. This sign remained the same even though BP had owned the station since 1998. These photos are from 2010. In 2019, the station was rebranded back to Amoco. The sign was repainted with an updated logo. For more, see this website. [map]
former Texaco station
St. Louis, MO
The former Texaco station now houses Johnny's Auto Repair. [map]
RoadsideArchitecture.com

Copyright. All photos at this website are copyrighted and may only be used with my consent. This includes posting them at Facebook, Pinterest, blogs, other websites, personal use, etc.

Tips & Updates. If you have suggestions about places that I haven't covered, historical info, or updates about places/things that have been remodeled or removed, I'd love to hear from you: roadarch@outlook.com.