(hit "refresh" to get the most recent version of this page; click on photos for larger images)
former Gulf station
Tampa, FL
former station
Tampa, FL
This former Gulf station was built in 1949. The building has housed Tam's Quality Auto Repair since at least 2007. [map]

This former station has housed Columbus Tires since around 2012. [map]
former Texaco station
Gainesville, FL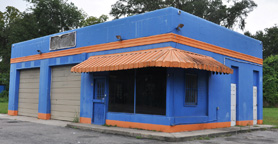 This former Texaco station has been vacant since around 2018. The building's white porcelain enamel panels and green trim have been painted over for many years. The canopy over the office was obviously an addition after the larger pump island canopy was removed. [map]
former Texaco station
Bradenton, FL

This former Texaco station was built in 1959. It has housed used car dealerships and repair shops since at least 2007. [map]
former Texaco station
Miami, FL

This former Texaco station has housed Leo's Auto Repair since at least 2007. [map]
former station
St. Pete Beach, FL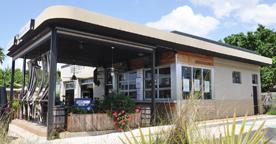 This former station was built in 1952. It housed a couple of tire stores in recent years. In 2016, the building was adapted for Mastry's Brewing Co. For more, see this website. [map]
former station
Punta Gorda, FL
This former station has housed Gregg's Automotive since 1993. [map]
former station
Miami, FL

This former station has housed a church since at least 2007. [map]
former Supertest station
Plant City, FL
This former Supertest station was built in the 1950s. It operated until at least the late 1970s. It has housed the Strawberry Hut since 1993. The canopy structure in front is not original. [map]
former Cities Service station
Titusville, FL
This former Cities Service station in Titusville was built in 1940. The building now houses City Auto Electric. The round projection above the roof held the company's logo sign. [map]
former Cities Service station
Orlando, FL
2009:
2021:
This former Cities Service station in Orlando is another example of the same design. The building appeared vacant in 2009. It was repainted a number of times since then. The building now houses Prestige Auto Care. [map]

Cities Service stations of this design looked like this originally. [1951 advertising scan thanks Bob Drake]
RoadsideArchitecture.com

Copyright. All photos at this website are copyrighted and may only be used with my consent. This includes posting them at Facebook, Pinterest, blogs, other websites, personal use, etc.

Tips & Updates. If you have suggestions about places that I haven't covered, historical info, or updates about places/things that have been remodeled or removed, I'd love to hear from you: roadarch@outlook.com.