(hit "refresh" to get the most recent version of this page; click on photos for larger images)
former Gulf station
Cortez, CO
former Gulf station
Wheat Ridge, CO
This former Gulf station in Cortez appeared to be abandoned when this photo was taken in 2012. It was still vacant in 2018. The addition to the roof is not original. [map]

This former Gulf station in Wheat Ridge now houses the AAA Propane Center. [map]
former Bay Service station
Rocky Ford, CO
former Texaco station
Idaho Springs, CO
This former Bay Service station housed Otero Cars & Detail when this photo was taken in 2012. The building was vacant in 2015 and still vacant in 2018. [map]

This former Texaco station is now a Shell station. This was Texaco's "Mattawan" design from the 1960s. [map]
former Oval E station
Denver, CO

2008: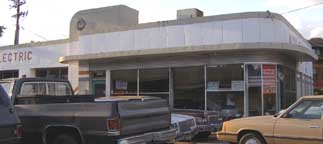 2012:
This former Oval E station was a Husky station in its remaining years as a gas station. The pumps were then removed and it was an auto repair shop for many years. The Oval E brand was sold in areas where the Esso brand was prohibited. This building was designed for Esso stations. In 2011, this building was converted into a 7-Eleven store. [map]
former Esso station
Colorado Springs, CO
This former Oval E station with the Esso building design now houses an Enterprise Rent-A-Car location. In later years, when it was still pumping gas, this was known as Buzz's Skelly station. For more, see this website. [map]
Johnnie's Auto Service Center
Golden, CO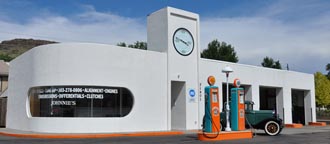 Johnnie's Auto Service Center was built around 2008. The building is meant to resemble and old Gulf station. [map]
former Conoco station
Golden, CO
This former Conoco station was built in 1949. In 1972, it was adapted for a Golden State Bank branch. A mansard roof and dark brick siding were installed then and have since been removed. In 2012 when these photos were taken, the building was being adapted for another use. In 2013, I was told that the project was at a standstill. By 2015, the building had been incorporated into a new one. [map]
former station
Boulder, CO
This former station has housed a Meineke Car Care Center for many years. I had not seen arches like this on a canopy before. They were probably later additions. They were removed around 2019. [map]
former station
Pueblo, CO
former Skelly station
Colorado Springs, CO
This former station in Pueblo has housed the Broadway Cup 'n' Cork cafe since 2012. [map]

This former Skelly station was probably built in the 1960s. The station would have looked like this one originally. The building has housed Peak Auto Service since 1993. [map]
former gas station
Commerce City, CO
This former gas station was a Conoco at one time. The building appears to be from the 1960s. It has been abandoned for many years. I don't know if the upstairs was used as a residence originally. However, it was used as a nightclub known as the A-Frame Lounge. Does anyone know more about this building? [map]
RoadsideArchitecture.com

Copyright. All photos at this website are copyrighted and may only be used with my consent. This includes posting them at Facebook, Pinterest, blogs, other websites, personal use, etc.

Tips & Updates. If you have suggestions about places that I haven't covered, historical info, or updates about places/things that have been remodeled or removed, I'd love to hear from you: roadarch@outlook.com.