(hit "refresh" to get the most recent version of this page; click on photos for larger images)
Orange Inn [gone]
Pasadena, CA
Giant Oranges [gone]
Sparta, WI
The Orange Inn was a giant, orange-shaped roadside stand from the 1920s. This one probably offered fresh-squeezed orange juice to passing motorists. Oversized fruits and other objects were a common roadside phenomenon in the 1920s and 1930s.

These Oranges in Sparta are modern orange juice stands. They were ready for shipping when this photo was taken in 2001. These stands were produced by FAST Fiberglass which is best known for producing fiberglass statues.
Mammoth Orange

Fairmead, CA
2008:
Chowchilla, CA
2014:
This Mammoth Orange was built around 1948 and installed in Chowchilla, CA. The 10-foot-tall giant orange was made of aluminum, wood and stucco. It has always been open in the back. It was one of several giant orange snack bars owned by Frank E. Pohl which were built along Route 99. The first one was built in Tracy, CA in 1926. There were 16 of these stands by the 1950s. The Chowchilla Orange was moved to Fairmead in 1954. The same owners had another giant orange in town which was known as Fast Eddies. That stand was less profitable and was demolished in the mid-1990s.

In 2008, this stand closed when highway expansion construction made getting to it virtually impossible. The City of Chowchilla bought the structure and planned to restore it and install it downtown near its original location. However, those plans fell through and the orange remained in storage. In 2012, the orange was sold to the San Joaquin Valley Paleontology Foundation which displays it at the Fossil Discovery Center in Chowchilla. The orange may be used as a concession stand in the future. For more, see this website. [map]
Mark's Hot Dogs
San Jose, CA
Mark's Hot Dogs opened in 1936. The business moved to this orange-shaped stand in 1947. In 2003, Mark's Hot Dogs moved the stand to its present location. This stand was originally part of Frank E. Pohl's Giant Orange chain as described above. For more, see these websites: 1, 2, and 3. [map]
George's Orange
Dixon, CA

2014:

2015:
George's Orange was also originally one of Frank E. Pohl's Giant Orange stands. It moved a few times and operated as an orange juice stand until 1973. It most recently housed Mr. Taco. The building has been vacant for years. These photos are from 2014. In 2015, the sign was gone and the building was repainted. The orange was repainted as well. I believe the building was condemned. In 2020, the Orange was moved to the Fairgrounds where it will be restored and displayed.
Joe's Giant Orange Cafe
Shasta Lake, CA

2008:
2015:
The giant orange at Joe's Giant Orange Cafe was built in 1946. This stand was also one of Frank E. Pohl's stands. It was previously located on US99 near Redding, CA. The orange is an eye-catching tourist attraction while food is served from the attached building. For more, see this website. [map]
Orange Stand
Williams, CA
California Citrus
State Historic Park
Riverside, CA
This abandoned Orange Stand in Williams is located on old Route 99. I believe this building was part of Frank E. Pohl's Giant Orange chain. [map]

This simulated orange juice stand was built for the California Citrus State Historic Park. The park opened in 1993 and the orange stand has been there since at least 2005. [map]
former Orange Stand
Berkeley, CA
This former Orange Stand is located on private property. It was previously located in Corcoran, CA where it was being used as a chicken coop. The current owners restored it.
Bono's Historic Orange
Fontana, CA
Bono's Historic Orange was built in 1936 as an orange juice stand. It was originally about three miles away from its present location. In the mid-1990s, the stand was falling apart and nearly demolished. It was donated to the Historical Society and moved to the Wal-Mart parking lot. Around 1999, it was moved to Bono's Restaurant and Deli. Although the orange has not been used for anything, it has been well-maintained. In 2022, the Fontana Historical Society has moved to the parking lot of the Fontana Public Works. It will be restored and relocated elsewhere in town.
Big Orange
Lemon Cove, CA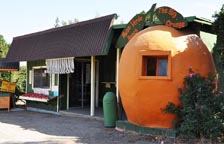 The Big Orange is located at Mesa Verde Ranch. It has been here since at least 2007 and I suspect it is much older than that. [map]
RoadsideArchitecture.com

Copyright. All photos at this website are copyrighted and may only be used with my consent. This includes posting them at Facebook, Pinterest, blogs, other websites, personal use, etc.

Tips & Updates. If you have suggestions about places that I haven't covered, historical info, or updates about places/things that have been remodeled or removed, I'd love to hear from you: roadarch@outlook.com.